November 8, 2012
Longtime College supporter Mary Michels Scovanner '77 makes major gift to fund new plaza
Thanks to a significant donation from Mary Michels Scovanner '77, what was once an asphalt parking lot behind Main Hall and adjacent to the Student Center, will soon be transformed into an attractive brick-lined plaza, complete with a fountain, ampitheatre seating, and bricks honoring faculty emeriti.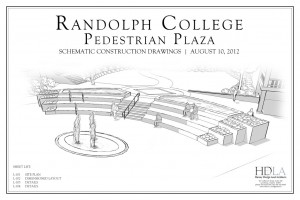 Construction on the plaza, which will be named Michels Plaza, will begin soon and is expected to be completed at the same time as the Student Center renovation. The two projects have been designed to work together to enhance and beautify one of the most traveled areas on campus, while providing a unique space for the community.
"Once the Student Center renovation is complete, the outdoor spaces associated with that facility and this new plaza will transform the look and feel of back campus," said John E. Klein, president of Randolph. "In addition to providing a unique gathering space for students, classes, and other events, the new plaza will highlight Randolph's views of the Blue Ridge Mountains."
For Scovanner, a Randolph College trustee, the opportunity to support campus life was important. "This is an exciting project that I believe will create a vibrant and welcoming place for our campus community to gather," she said. "It's great to have this opportunity to support the College in a way that I hope will enrich campus living for our current and future students."
The new plaza will feature ampitheatre seating around a fountain. The seating is designed to mimic the seating in Randolph's Greek Theatre, and the fountain, which will feature three bursts of water, will add energy to the space. In addition to landscaping, the design of the plaza will incorporate the same diamond pattern found on the front campus brick walkway. An area of the plaza will also be designated to honor faculty emeriti with special bricks.
Klein expressed gratitude for Scovanner's commitment to improving student life. Several years ago, another initiative funded by Scovanner provided amenities and campus improvements designed to enrich the campus community and improve the student experience.
"Mary Michels Scovanner has been a long-time supporter of the College, giving of both her time and financial resources," he said. "We are grateful for her unwavering commitment to Randolph College."
Tags:
donation, Student Center renovation