August 27, 2009
Students Greeted With Campus Improvements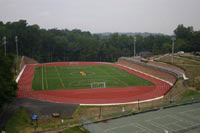 It's been a busy summer as Randolph College continues to upgrade and improve our facilities.
Thanks to a gift from Mary Michels Scovanner '77, students will notice improvements in various social spaces on campus including a renovation of the 2nd and 3rd floors of the Student Center, new billiards table, permanent lighting in the Dell, a portable sound system for parties, new bikes for the bike share program, new cardio equipment in Physical Education and Recreation center (gym) and a renovation of the Smith Hall Bar.
The new Field and Track complex is open for business. Runners, joggers, and walkers are invited to use the synthetic surface track. WildCat fans will enjoy watching women's and men's teams compete on the lighted all-weather surface from the new stands.
Tags:
campus improvements, college social life, facilities, fitness, improve