Buildings & Grounds
Mission
The mission of the Buildings and Grounds Department at Randolph College is to:
Proactively improve, maintain, and operate the College's facilities in a responsible, safe, and cost effective manner
Ensure all facilities are safe, accessible, and in compliance with all applicable government codes and regulations
Support the general purpose and mission of the College
Support, promote, and lead campus sustainability and environmental efforts
Location
The B&G Office is located on the ground floor of the MAC, pictured above. Parking is available next to the building (See letter "P"). You can enter through the door circled in red. Upon entering, take the stairs through the second door to your left.
For a GPS address, enter: 155 Norfolk Avenue, Lynchburg, VA 24503.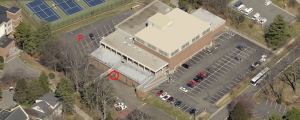 Contact
Phone: (434) 947-8109
Office Hours: 8 a.m.-4:30 p.m., Monday-Friday
Outside of regular office hours, please call the Information Desk, (434) 947-8000.
Mailing address: 2500 Rivermont Ave, Lynchburg, VA 24503
Online Forms