December 8, 2017
Friendly Competition
Four high school friends reunite as part of Randolph's new swim team
It had been three years since Jeff Oliveri '21 was last in a pool with his best friends from their swimming club in South Carolina. But when the four were reunited at Randolph's first swim team practice in September, it was just like the old days—plenty of friendly competition and lots of laughs.
Oliveri, Oscar Onoszko '21, Andrew Scales '21, and Banks Bullard '21 grew up swimming together in Upper Palmetto YMCA's RAYS year-round competitive program. For years, the group of friends did everything together, from traveling to swim meets to just hanging out and watching movies. However, just before their sophomore year, Oliveri and his family moved to Maryland, putting hundreds of miles between him and his friends.
Oliveri joined a new swimming club while his three friends continued to compete in South Carolina. As they began the college search process, they had no idea that Randolph's head swimming coach Taylor Steele had his eye on all of them.
"I honestly had no idea they knew of each other until we were halfway through the recruiting process last year," Steele recalled.
He first learned about the friendship when he saw a picture of Onoszko and Oliveri on social media, taken when Oliveri was visiting family in South Carolina during the holidays. During Steele's next conversation with Onoszko, he finally connected the dots.
"Coach was like, 'Do you know Jeff Oliveri?' And I was like, 'Yeah, he lives in Maryland now, and we used to swim together,'" Onoszko said. "That's when he told me he was recruiting him too. I had thought it was only me up until that point."
Knowing they would be reunited and have the chance to be founding members of the new men's swimming program made the decision easier for each of the swimmers. Oliveri was the first to commit, followed by Onoszko, Bullard, and then Scales.
"Definitely the opportunity to start a new program is what brought me to Randolph and to the team," Scales said. "We have a chance to build something totally new."
"When I first came to campus it was for an overnight visit, and that was it," Oliveri added. "I liked the campus and the people here and thought it was a perfect fit for me."
Since arriving at Randolph in August, the four student-athletes are starting more than just a new swimming program—they're also beginning a new chapter in their friendship. In fact, they're spending time together now more than ever before, since they were paired as roommates and neighbors in the same residence hall. In their free time, the students still do many of the same things they did in high school, but they're also discovering new opportunities and activities around campus to become involved in.
"There's so much to do around here, especially if you like doing things outdoors," Bullard said.
Steele sees great potential in his new recruits, each of whom possess different strengths. He was impressed by Oliveri's heavy hitting technique in sprints and Onoszko's middle distance relay experience. He sees Bullard as a staple for the distance freestyle and 400 individual medley events and Scales for his potential in fly and backstroke events.
Steele is excited to watch his team create a solid foundation for future swimmers to build upon.
"At the end of the year, I'll get to send a newsletter and say, 'My men set 120 records this year,'" Steele grinned. "I want these guys to be part of the top new program in the conference. I think we're really building something special here."
Randolph's men's team is among the first of its kind to join the Old Dominion Athletic Conference, which just began sponsoring men's swimming in 2014. Other newcomers the WildCats will face this year include Roanoke College, Emory & Henry, and Virginia Wesleyan.
Steele is also coaching the women's swimming team, which is making a comeback this year since being put on hiatus in 2009. The women's program has a rich history at the College, especially during the 1980s when three different coaches were named ODAC Coach of the Year, and three swimmers earned multiple awards from the conference. One of those swimmers, Amy Winder Heidler '87, was named a two-time All-American.
Steele's main focus for both teams in the 2017-18 season is to lay the groundwork for success. And he already has his eye on more potential WildCats from the South Carolina area—thanks to the connections of the four friends he recruited this year.
"Ultimately it's about developing a team atmosphere that we're satisfied with so that we can bring in more recruits," Steele said. "We're also truly competing for that top spot among new programs. I think that would justify us as a true program, even if we're only fourth or fifth on the podium."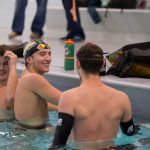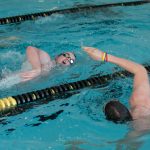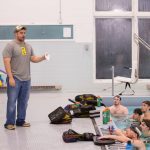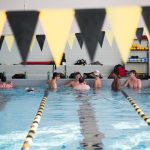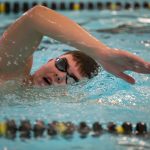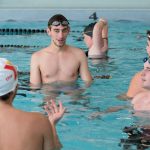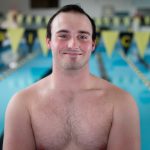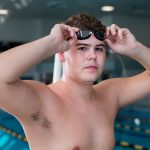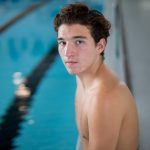 Tags:
Andrew Scales '21, athletics, Banks Bullard '21, Jeff Oliveri '21, magazine, men's swimming, Taylor Steele, Vita Vol. 1 No. 2