October 30, 2015
Shakespeare's Twelfth Night shows continue at Randolph this weekend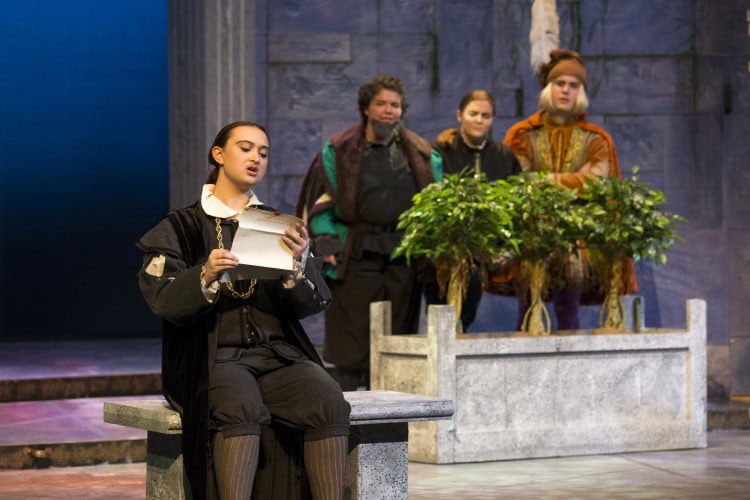 William Shakespeare was one of the most extraordinary writers of all time, but his plays were about ordinary human struggles that still exist today. That's what director Glenn Schudel is hoping to show audiences in Randolph's upcoming production of Twelfth Night.
The play, which opens at Thoresen Theatre November 13, features twins Viola (Lydia Edwards '19) and Sebastian (Stuart Pratuch '18), who are shipwreck survivors in a strange country. Viola is first to wash ashore, and, believing her brother to be dead, disguises herself as a man. She is hired as a messenger for Duke Orsino (John Ruml '17) and helps him woo the Countess Olivia (Olivia Wray '16), but in the process, falls in love with the Duke herself. Meanwhile, Viola's brother washes ashore and the other characters start confusing the two.
"What I love about it is it's a play that deals a lot with love and loss," Schudel said. "People mourn lost family members and fall in love with people who don't love them back, and everyone is trying to make these connections or move on with their lives in some way or another. There are all these melancholy human emotions, but around it is this ridiculous play with mistaken identities and people deliberately pranking each other, and there's also a lot of music and things like that."
Schudel plans to simplify the play by incorporating authentic Shakespeare staging conventions and keeping the length of the show relatively short. A self-described "Shakespeare nerd," Schudel has worked on 27 productions at the American Shakespeare Center over the last eight years and was assistant director for the last four years. He also directed a production of Macbeth for Mary Baldwin College's graduate theatre program.
One of Schudel's favorite parts about working with Randolph students has been sharing his love for all things Shakespeare and helping them better understand the simple stories and motivations of the characters beneath the complex text.
"I enjoy getting people to stop seeing black squiggles on a white page and start seeing people who feel things, do things, and want things," Schudel said. "Shakespeare didn't write Romeo and Juliet thinking to himself, 'I hope in 400 years every 9th grader in America has to read this and write a paper on it.' He was trying to write a play that people would come see, and it worked."
Another of Schudel's favorite aspects about Twelfth Night is that each character plays an important role in the production. "This is definitely an ensemble piece," he said. "It's cooperative, and if one person isn't carrying his or her weight then it's going to get back to everyone else. This isn't really a star vehicle, so everyone has to work together and everyone is an important cog in the machine that has to be on point every night they show up to work."
Twelfth Night shows are scheduled November 13, 14, 15, 20, and 21, and tickets are available at www.randolphcollege.edu/tickets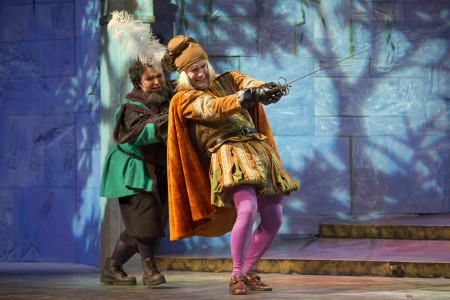 Tags:
Glenn Schudel, productions, shakespeare, theatre, tickets