August 26, 2015
Randolph welcomes Class of 2019 to campus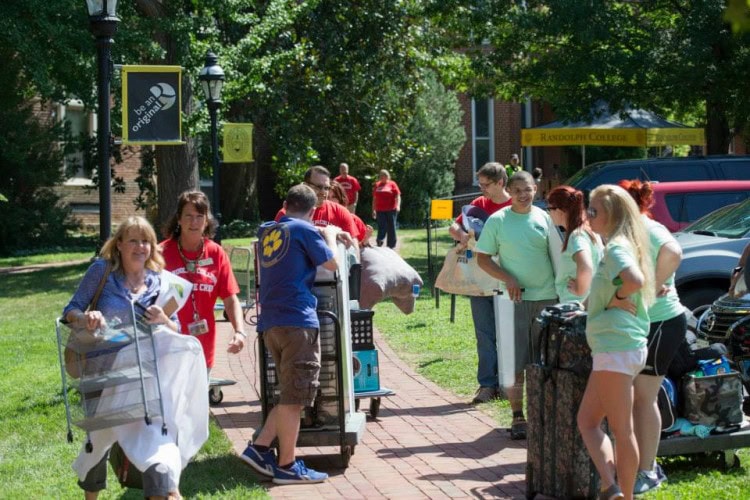 Randolph College welcomed 234 new students today, with a large crew of faculty and staff volunteers helping families haul boxes, suitcases, and other items during the College's annual move-in.
Randolph is expecting a total student body of about 700—a 40 percent increase since 2009.  The remainder of students will arrive this weekend.
"We are very excited to have our newest students move in today," said Bradley W. Bateman, president. "This is a wonderful class, filled with so many interesting, talented, and academically focused students. We are proud to welcome them to our community."
Several exciting changes and programs await students this fall. Randolph's newest residence hall renovation, Wright Hall, was completed in August. The 107-year-old residence hall will offer its more than 70 residents modern conveniences with an historic feel. The complete renovation restored historic elements such as the building's hardwood floors, while adding an elevator, air condition, and all new furnishings.
The building was renovated to meet LEED certification guidelines, strict requirements that ensure a building is environmentally friendly. In addition, Randolph completed the second phase of renovations to Cheatham Dining Hall and the first phase of an upgrade to the College's electrical infrastructure. The renovation projects were funded in large part by generous alumnae gifts.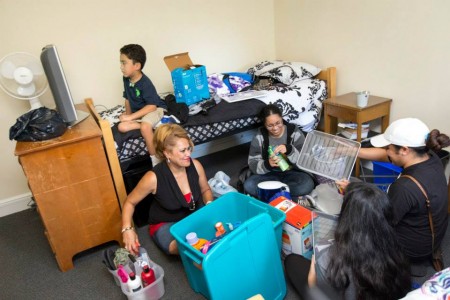 "This is a great time to be at Randolph College," Bateman said. "This is a special place that offers our students so many unique opportunities. We have made significant progress over the years and have much to look forward to for the coming year."
This academic year also marks exciting advancements in a partnership the College recently formed with the National Gallery, London. Sir Nicholas Penny, the museum's former director, will deliver a public address at Randolph on Sept. 24. Randolph will also open a new exhibition in the Maier Museum of Art at Randolph College this fall. Venetian Visions features works loaned to Randolph from the National Gallery, London.
Other new partnerships include a dual enrollment agreement with Central Virginia Community College, which was announced in the summer. In addition, Randolph will welcome Endstation Theatre Company as its in-residence theatre company.
Randolph will continue offering its special financial aid program for students from the surrounding area (Lynchburg City and the counties of Amherst, Appomattox, Bedford, Campbell, and Nelson)  for the upcoming academic year. The Local Area Educational Program (LEAP) guarantees that students from the area will pay no more than $10,000 in tuition each year. For more information, please see: www.randolphcollege.edu/LEAP
Randolph will also continue to offer its free science sessions for high school students on weekends this fall. Science Saturdays offer a variety of hands-on laboratory activities. For more information or to register, please go to: http://web.randolphcollege.edu/sciencesaturdays/
Classes for the 2015-16 academic year begin Aug. 31. On Sept. 1, Randolph will officially open its academic year with its annual convocation ceremony.
Tags:
Class of 2019, move-in day, new students