February 2, 2015
Writer, producer, performer Dave Mondy gives public reading
Dave Mondy finds inspiration in a variety of places. His essay "How Things Break" emerged from a photo of Muhammad Ali towering victoriously over boxing opponent Sonny Liston. Another recent journalistic piece describes his experience visiting every store—more than 500—in the Mall of America without leaving the premises for two days.
Nonfiction Reading by
Dave Mondy
When: 8 p.m. Wednesday, Feb. 4
Where: Alice Ashley Jack Room, Smith Memorial Hall
"I keep jumping from one thing to another, going along with whatever opportunity that comes up that I may be interested in," said Mondy, the Randolph Visiting Writer in Residence.
Mondy will give a public reading of his non-fiction works on Wednesday, Feb. 4, at 8 p.m. in the Ashley Jack Room in Smith Memorial Hall. The reading will be followed by a discussion session where Mondy will share with students his creative process and experiences as a non-fiction writer.
After getting his MFA in Creative Writing from the University of Arizona, Mondy has been writing extensively in multiple genres, from food and wine to travel writing to fiction and memoir. His works are featured in Edible, Best Food Writing 2014, The Iowa Review, and Traveler's Tales. Besides his career as a writer, Mondy also hosts and creates a variety of public radio shows, stand-up comedy shows, and theatrical productions.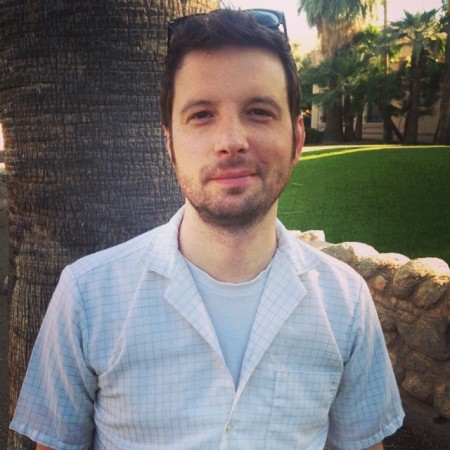 Mondy's love for exploring new waters has led him to Randolph College. As a friend of English Professor Gary Dop, who used to work with Mondy in one of his radio shows, Mondy found out about the College's visiting writer program and decided to give it a try.
"Randolph's residency seems like one of the best ones out there, especially for a writer at my level, because it's a beautiful environment," said Mondy. "It's really nice to teach because it balances out the solitude and myopia that comes with being a writer; and it just feels really nice to help students with their writing."
Mondy is familiar with the ups and downs of being a writer, including phases of writer's block and times of abundant creativity. "So I feel like I have something to offer from experience in the way of managing creativity, enjoyment, revision, and hard work," he said.
Mondy started his residency at Randolph College in high spirits, impressed with both the campus and its students. "The campus is beautiful, like the small, idyllic East Coast college that you can only see in movies," said Mondy. "The students are great and very engaged. They all seem to have their own projects going on that they are really enthusiastic about, which makes it much more fun to teach."
Mondy is teaching a class of seven students, who get to learn about creative writing through lots of interaction and discussion with an accomplished author. "I actually really like the small class with everyone sitting around the table and exchanging ideas," Mondy said.
Tags:
English