November 26, 2014
Award-winning composer visits Randolph College for American premiere of new composition
Lynchburg residents can experience some of the most imaginative and edgy sounds ever written for orchestra when the Randolph College Chamber Orchestra performs the American premiere of a new composition by award-winning composer Maxwell Dulaney.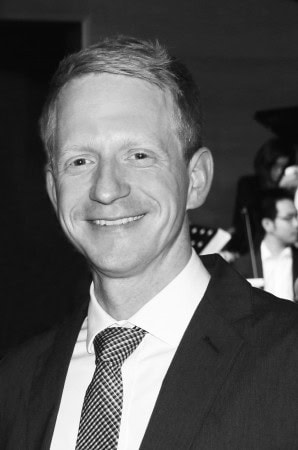 The Chamber Orchestra will present its fall concert on December 5 at 7:30 p.m. in Smith Hall Theatre. The group includes Randolph College students as well as Lynchburg-area high school students who play alongside professional musicians.
Dulaney is an internationally recognized composer whose works have been performed in Asia, Europe, and many cities around the USA. He will visit Randolph College for two days to work with the Chamber Orchestra as the group prepares to perform the American premiere of his composition The Old Harp.
The Old Harp was inspired by a Chinese poem that uses imagery of an old Chinese instrument, the Qin, collecting dust. The composition begins with sounds that are only the abstract representation of music: the violin plays almost imperceptible sounds of the bow and fingers gliding against the strings but with all of the pitch muted.
"This airy sound is like the sound of the Qin distant in the wind," said Dulaney, who teaches composition and theory at Tulane University. "As the ensemble begins to join in, it amplifies this germinal airy sound through the use of similarly airy or breathy techniques on the instruments, and as the piece progresses through varied repetitions of the original idea, pitched music begins to emerge out of the abstract sounds."  The piece was originally written for a smaller ensemble in China, but Dulaney both expanded and rescored it especially for the Randolph College Orchestra.
Besides The Old Harp, the Randolph College Chamber Orchestra will perform classics by Bela Bartok, Igor Stravinsky, Charles Ives, and a cantata by Johann Sebastian Bach in collaboration with the Randolph College Chorale.
Tags:
chamber orchestra, Music