October 21, 2014
Randolph professor has new books coming soon
Bunny Goodjohn '04 will publish two books in the coming year.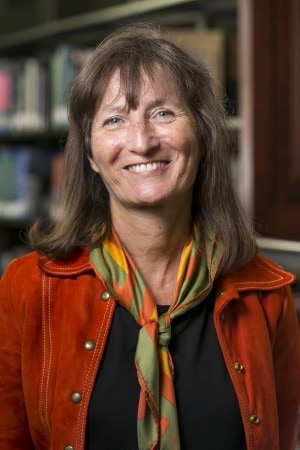 Goodjohn, the director of the Randolph College Writing Center and an English professor, won a prize for a collection of poems that will be published in May 2015. She also signed a contract with a publisher for her second novel, set to appear on bookshelves in August 2015.
"It feels great to be making this progress," said Goodjohn, who frequently writes and sends work to literary journals and publishers.
Goodjohn learned a lot about resilience in writing when she was a student at Randolph-Macon Woman's College. She recalls Jim Peterson, a recently retired Randolph English professor, telling her that success as a writer would require "tenacity and desire."
"You have to keep on sending the work out despite the constant sting of rejection; and you have to keep stoking (and stroking) your desire to write," Goodjohn said. "Sometimes it's hard to write in the wake of rejection. But you just have to keep doing it if you want to get your work out there."
Goodjohn's first novel, Sticklebacks and Snowglobes, appeared in 2007. Her writing has been published in several literary magazines since then. In May, her poetry collection Bone Song won the Liam Rector First Book Prize for Poetry. The award includes a $1,000 honorarium and publication.
She also recently signed a contract with Underground Voices, an independent publisher in Los Angeles, for The Beginning Things, her second novel.
She has written Bone Song over a period of about 10 years. Some she wrote shortly after she graduated from the College, and some were written this year. "The entire collection charts a journey," she said.
Craig Challender, who judged the 2014 Liam Rector contest, wrote that in Bone Song, "Goodjohn's plangent, lived-in voice surfaces in poem after poem in this collection, whether formal or free, lyric or narrative. In a time that too often privileges fractal facility over wisdom, Bone Song is a tonic-refreshing and vital."
Tags:
bunny goodjohn, creative writing, English, faculty, faculty achievements