September 5, 2014
Reusable takeout boxes now available in dining hall
Taking a meal to go from Cheatham Dining Hall just got a little easier, not to mention more environmentally friendly.
Diners can now pack their meals in reusable to-go boxes. The new option includes a sturdy box that is not sent to the landfill after a single use.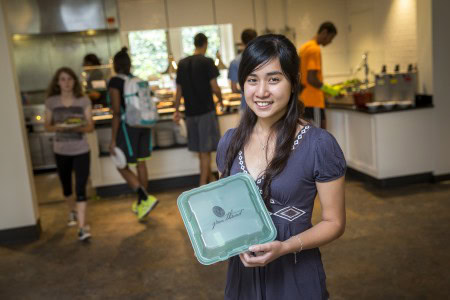 The reusable takeout boxes are the result of research conducted by Hailey Nguyen '15 during the Summer Research Program this year. She studied a variety of strategies colleges can employ to make their dining services more sustainable. Replacing the old Styrofoam containers with reusable boxes was one of her main recommendations.
Officials from Aramark, Randolph's dining services contractor, attended Nguyen's research presentation and then talked with her about the ideas. A few weeks later, Nguyen learned they had decided to implement a reusable takeout container program.
"We decided to offer these reusable containers to increase the convenience for students desiring to take their meal to-go while also reducing our environmental footprint by eliminating disposable containers," said Faren Alston, a spokesperson for Aramark.
Alston said the new boxes are made of a durable polypropylene that is safe for use in microwaves and dishwashers. The boxes are recyclable, too, so they avoid taking up landfill space even when they do need replacement.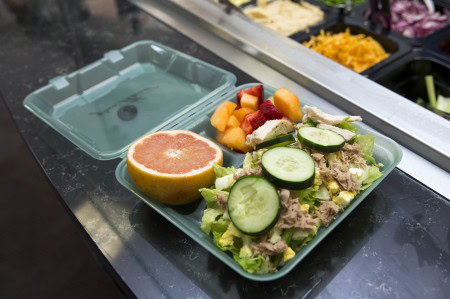 To take advantage of the reusable boxes, diners pay $5 for the first box. (Students' dining dollars are accepted.) Once done with their takeout meal, users return their boxes to Cheatham, where dining hall staff wash the containers along with other dishes. The diner can pick up a clean takeout box at that time, a or receive a tag that can be used to claim one at a later meal.
Nguyen was pleased to see her idea and recommendation come to fruition, and she hopes members of the Randolph community will appreciate the greater sustainability of the new program. "The new boxes are safer for your health and can be recycled easily," she said. "By reusing, you reduce the amount of trash every day."
She appreciates the fact that her idea received the support of Aramark and Randolph administrators. "I think that this is a benefit of studying in a small school like Randolph," she said. "If you know how to do things right, your voice is heard here."
Tags:
dining services, research, sustainability