July 15, 2014
Student research examines effects of filtering rainwater for later use
The water that pours off rooftops in rainstorms presents both a challenge and an opportunity.
The challenge is that the runoff likely eventually makes its way to rivers and streams, carrying dirt, trash, oil, bacteria, and anything else that it picks up along the way. The opportunity lies in storing that rainwater and reusing it before it runs off.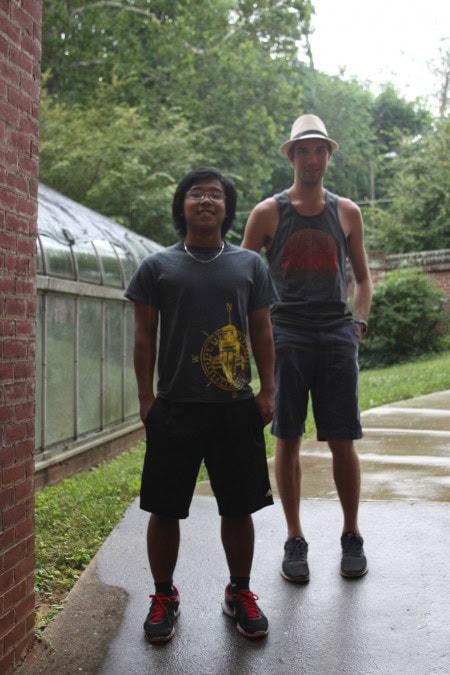 This summer, two Randolph students and a professor worked together on a research project designed to find out whether a filter can increase the quality of water in a rainwater storage system, such as a rain barrel, enough to make it more usable.
"The experiment that we set up at the beginning of the summer was to answer the question, what is the difference between the quality of the water with a filter, and without a filter?" Chris Hollingsworth '15 said.
"If we can prove that the water, after the filter, is clean enough for people to use, more people will use water from rainwater harvesting systems," said Dan Phung '15. "We will save more water, and we will reduce runoff water.
Sarah Sojka, a Randolph environmental studies and physics professor, and the company Rainwater Management Solutions (RMS) recently won a $23,910 grant from the Commonwealth Research Commercialization Fund, a Virginia economic development fund that helps companies fund research that needs to be done for their products. The grant is paying for a study that tracks the quality of water in rainwater storage systems made by RMS over a year.
The summer project was a small subset of the larger project. Instead of focusing on the samples taken from several RMS customer homes, Phung and Hollingsworth tested samples of rainwater from Sojka's own home.
It was immediately clear that the filters reduced the amount of solids, such as gravel or dirt from the roof and gutters, in the buckets of collected rainwater, Phung said. But chemical tests on the water revealed some differences, too.
"We found that the filtered buckets typically had much less bacteria than the unfiltered buckets," Hollingsworth said.
The research will continue this fall and in the spring of 2015, so they can collect additional data, including information on the long-term quality of the filtered water.
Tags:
Environmental Studies, research, summer research, summer research 2014