October 15, 2018
Patricia Garrett '18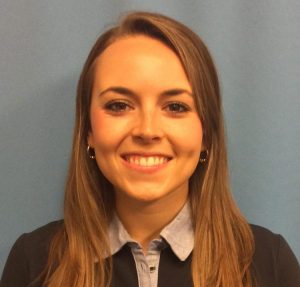 Major: sport and exercise studies
"I currently work two jobs: therapy tech at OrthoVirginia and assistant coach for Randolph Women's Soccer.
"As a therapy tech, I assist physical therapists with their daily tasks, instruct and monitor patients with their rehabilitation protocols, and create a positive environment for patients.
"As an assistant coach, I assist coach [Kevin] Porterfield in organizing the soccer program, providing motivation and instruction for student-athletes in game strategies, and recruit for future student athletes to continue on the Randolph women's soccer family.
"Randolph was able to prepare me for these opportunities by providing me with a great advisor who not only taught me the relationships between exercise and human performance throughout my major of sport and exercise studies, but helped me turn that internship into a great job opportunity. By being a student-athlete, I was able to learn the importance of time management and core leadership values that are essential not only in life, but also my current profession as an assistant coach. Randolph allowed me to create and build lifelong connections and friendships and taught me the importance of always being an original."
Tags:
athlete, Sport and Exercise Studies