May 12, 2019
Commencement 2019 recap: Richmond mayor encourages graduates to pursue compassionate, equitable, and successful lives
Families, friends, faculty, and staff gathered on a damp Mother's Day morning to celebrate Randolph College's Class of 2019. Because of heavy rain, the May 12 ceremony was moved inside to Smith Hall Theatre.
MORE COVERAGE OF COMMENCEMENT 2019
Levar M. Stoney, mayor of the City of Richmond, Va., served as keynote speaker for the event. Stoney is the youngest mayor the city has ever elected and was also the first African American to serve as Secretary of the Commonwealth of Virginia.
He recalled his emotions and the circumstances leading up to his own graduation from James Madison University 15 years ago. Stoney was raised in Virginia by his grandmother and his father, who was a custodian. A product of Virginia public schools, he grew up on free-and-reduced lunch and was the first in his family to earn a high school diploma. He also came in to school early to do his homework, since his family couldn't afford textbook fees. However, his family always stressed upon him the importance of education.
"As a child, I remember asking my dad to tell me bedtime stories, and all his stories always involved a kid going to this imaginary place called college," Stoney said. "I eventually caught on that that kid was me. What my father knew, and I came to understand and believe, is that education can change the trajectory of your life, and the life of your family. It is a gateway to success."
Stoney told the Class of 2019 that education provides opportunity. For him, that opportunity informs what he does every day as mayor. Stoney outlined some of the work he has done in Richmond to ensure everyone, regardless of their background, race, religious beliefs, or sexual orientation, has equal opportunities.
"In Richmond, we cannot guarantee that everyone succeeds," Stoney said. "But we owe it to all of our children to give them the access and opportunity to succeed according to their own God-given talents and abilities."
Stoney said one of the reasons he agreed to give Randolph's Commencement address is the College's commitment to that kind of equity and opportunity for all. He noted that 2019 marks 50 years since the College's first African American students, Ann Richards Kearn '69 and Lois Dooley Hamlar '69, earned undergraduate degrees.
"This college community and our Commonwealth owe them our appreciation, and I think it's only appropriate that we recognize and honor their achievements here today," Stoney said. "Ann Kearn and Lois Hamlar did not quit—and in your own way, I know each one of you graduates has overcome your own challenges to reach this milestone today."
Stoney left the graduates with three pieces of advice on how to thrive in life after graduation: be able to accept failure and not quit, show up when opportunities present themselves, and be kind to people.
"The bottom line is you have been given a gift, and by working hard to get to this day you have earned that gift—the gift of an education at a fine institution," Stoney said. "This is a powerful thing. It's a tool that you will use as you build what I hope will be a compassionate and equitable and successful life as you strive to be the best version of yourself. It's now up to you to make the world in which you wish to live."
Libby Exline, president of the Class of 2019, thanked Randolph and its faculty and staff for "the life lessons, endless memories, and friends that became family."
"College is a time for all of us to grow, a time for us to figure out who we are and who we want to become," Exline said. "You have taught us to be resilient, even when it seems like the world is out to get us. You have taught us that the sun is always going to rise tomorrow and that we will be able to move mountains."
Exline said she has also embraced the school's motto of Vita Abundantior—a life more abundant.
"Randolph allowed me to play on two sports teams, have multiple internships and research opportunities, study abroad for a whole semester, and be part of a few too many clubs," Exline said. "Randolph pushes you to be an original and truly make the most out of your four years here."
For the next step in her own life, Exline has joined the Peace Corps and will begin a community agriculture project in Paraguay in September. As she reflected on her four years at Randolph, Exline said she is most thankful for the friendships she has formed.
"We came in together as scared first-years and now we all are together for one last time to receive one of our greatest accomplishments," she said. "It is the institution within this Red Brick Wall that has shaped each of us into the leaders were are today, and built these bonds that will last a lifetime."
The College also recognized the recipient of the prestigious Maude Huff Fife Award. Named after a graduate of the Class of 1918, the award is given to the student (or students) whose quality point ratio is the highest in the senior class. This year, the award was given to Mekenzie Schmitt.
A double major in dance and liberal studies from Arlington, Va., Schmitt was a routine recipient of dean's list honors and served as a tutor in the College's writing lab. She was highly involved and accomplished within the dance department, earning the Eleanor Struppa Departmental Award in 2019, the Helen McGehee Award in 2018, and the Sally Spencer Award in 2017. In the education department, her scholarship of pedagogy earned her the prestigious Kathleen Bowman Education Research Award. She was also the recipient of the College's 2017 Phi Beta Kappa Book Award, and has been inducted into both the Phi Beta Kappa and Omicron Delta Kappa National Leadership honor societies.
Two of the College's retiring faculty were recognized at the ceremony as well. Marjorie Wheeler-Barclay, the Charles A. Dana Professor of History, and James Muehlemann, an art professor, received emeriti status.
Randolph President Bradley W. Bateman also noted the 50th anniversary of the College's first African American graduates, and urged the Class of 2019 to persevere as those women did when life becomes difficult.
"When we tell Ann and Lois's story, we tell it as an end. An end to segregation at the College," Bateman said. "And, in some larger sense, we associate it with the end of segregation in our country, following the Civil Rights Act of 1964 and the Voting Rights Act of 1965."
Despite the end of segregation, Bateman noted that integration at Randolph and other schools across the country did not mark the end of racism. He referenced the violent white supremacist rally in Charlottesville in 2017 as proof that hatred and bigotry remain a problem in society today.
The Class of 2019, Bateman said, gives him hope for a brighter future.
"When I look out at you today, wonderfully diverse and generous to one another, I want to believe that I see both a beginning and an end," he said. "Rather than seeing the beginning of an end that we saw with the arrival of Ann and Lois, I want to believe that I see the end of the process of integration in sight—the end of the process that began 50 years ago here and in this nation.
"Today, Randolph is as diverse as the nation," Bateman continued. "You represent all races, and many of you are multiracial. But more to the point, during four years when division and racial lines have been pushed hard at us, I have observed a studied and principled refusal in your class to let those divisions in the nation define your life together here."
Bateman also echoed Exline's words about the second family students receive when they come to Randolph.
"Beneath the surface of your busy lives here, I see a group of individuals willing to care for each other, and uninterested in the division and hatred that poisons so many aspects of American life and has pushed at us relentlessly," he said. "Thus, you give me hope. And this means that while I say goodbye to you with a sense of melancholy, I'm also anxious to see the difference you will make in the world. Thank you for the hope you give me and each of us in this auditorium."
Photos from the ceremony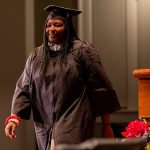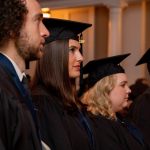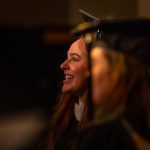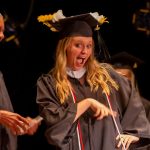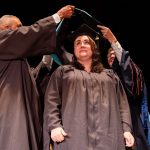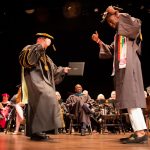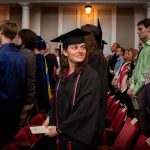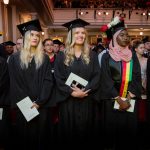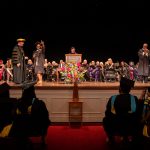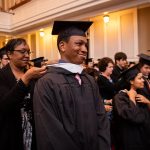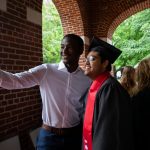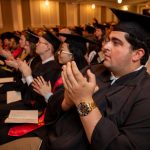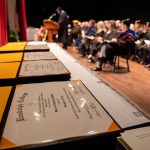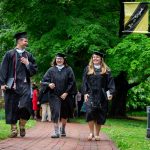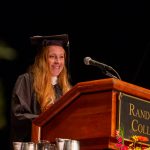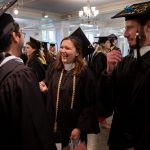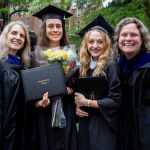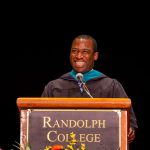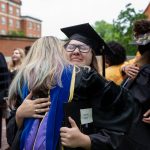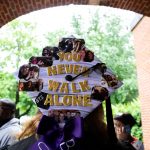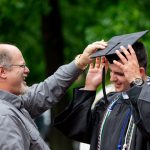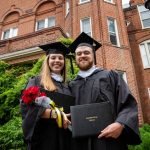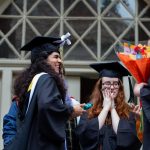 Tags:
Bradley W. Bateman, Commencement, commencement 2019, events, graduates, Levar M. Stoney, Libby Exline, speakers