May 15, 2016
Randolph celebrates the Class of 2016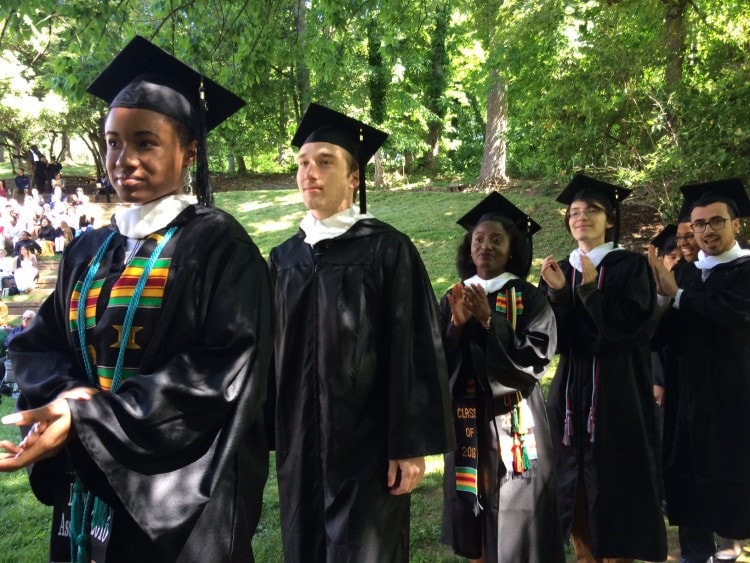 Under a clear sky with a chilly breeze, families, friends, faculty, and staff gathered in the Dell Sunday morning to celebrate the Randolph College Class of 2016. The message for the Commencement ceremony was one of courage and perseverance in the face of change, and speakers encouraged the Class of 2016 to go forward and be leaders in the ever-changing world.
More coverage at www.randolphcollege.edu/commencement.
"From the hallowed halls of this great College have come civic and economic leaders who help make a difference in their communities, their nation, and indeed the world," said Bradley W. Bateman, president of the College. "Since our humble beginnings in 1891, as Randolph-Macon Woman's College, we have never shied away from our commitment to providing a uniquely personalized education in the liberal arts that prepares students to engage the world critically and creatively, live and work honorably, and to experience live abundantly. Today we add these women and men before me to the list of graduates who are leaving this College prepared to reach extraordinary levels of achievement."
At the ceremony, 149 graduates were honored, including those enrolled in Randolph's master's degree program. The College also recognized the recipients of the prestigious Maude Huff Fife Award. The award, named after a graduate of the Class of 1918, is given to the student (or students) whose quality point ratio is the highest in the senior class. This year, the award was shared by three graduates: Sara Woodward, Lindsay Brents, and Lucas Smith.
Woodward earned a B.S. degree in environmental science and completed honors in her major. Originally from Wilmington, DE., she is a member of Phi Beta Kappa and a consistent Dean's List student. In 2014-15, she also participated in Randolph@Reading, the College's flagship study abroad program in England.
Brents earned a BFA degree in dance and a second major in English (creative writing) as well as a minor in Chinese studies. Originally from Vienna, VA., she is a member of Phi Beta Kappa and Sigma Tau Delta and was a consistent Dean's List student.
Originally from Cloverdale, VA., Smith earned a B.A. in business management.  A member of Phi Beta Kappa and a routine recipient of Dean's List honors, he also was a member of the men's basketball team and received the Randolph College Scholar Athlete Award.
Dina Velazco, president of the Class of 2016, earned her B.A. in business and economics and is a first-generation college graduate from Barquisimeto, Venezuela. In addition to serving as class president, she has been a resident assistant and academic tutor since 2013 and president of the Eta Spirit Group since 2014. She was also a member of the women's tennis team and the Heritage Ensemble, and earned the 2015 Student Mentor of the Year Award.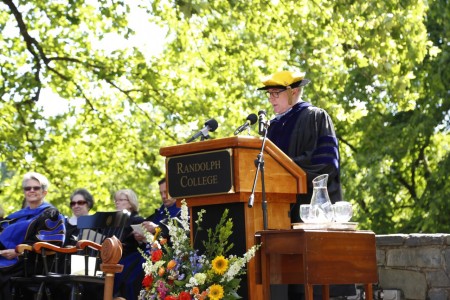 At Commencement, Velazco advised her classmates to find their calling, but not to rush.
"Our time to do great things will come, as long as we keep moving forward and giving our best to all we do," she said. "And when our big moment arrives, it may not be what or when we expected it to be, but when it does we are going to look back at the great and hard times of our lives and be grateful for them. I believe the best part is not when we get there, but living and remembering all that got you there in the first place."
Bateman said the College had never graduated a class as diverse as the Class of 2016. Yet, he has found its members to be kind, attentive, and loving to one another.
"Simply the smallness in number is not what defines the largeness of this community," Bateman said. "Thank you for what you have given us. I hope you will take these great gifts of kindness and love and share them with the world."
Jolley Bruce Christman '69, trustee emerita, served as keynote speaker at the ceremony. A Greenville, S.C., native, Christman is the co-founder of Research for Action, a nationally respected education research organization that has a commitment to educational equity and a focus on providing information and analysis that supports community involvement in schools. She has mentored countless students, researchers, and activists on issues of teaching, learning, and school improvement, and helped them understand key lessons from school reform movements across the country.
Christman is also a trustee of the Jolley Foundation, which was established as a conduit for the Jolley family's philanthropy. The foundation has been a longtime supporter of the College, providing support for several endowed funds, internships, and more. The organization was inducted into the College's Vita Abundantior Society in 2010, and Christman received an Alumnae Achievement Award in 2013. She earned her M.S. and Ph.D. degrees from the University of Pennsylvania, where she taught at the Graduate School of Education and was given its Helen C. Bailey Award that recognizes outstanding alumni.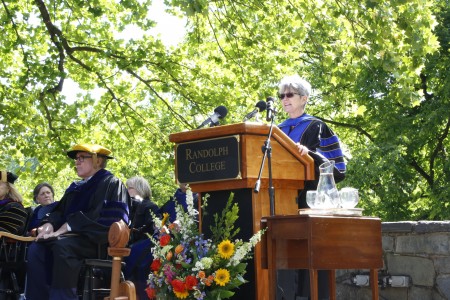 Christman was a member of Randolph College's Board of Trustees for 10 years, beginning in 1997, and was president of the Board during the College's decision to admit men in 2006. At Commencement, she spoke about her time on the Board and making the difficult decisions that changed the course of the College's history.
"Like others, I had joined the Board with a strong belief in the value of a woman's college," she said. "I felt angry that the College faced such big financial hurdles. I also felt proud that as a Board, we decided to look the beast in the eye. I felt hope, that the College would endure and be steadfast in its commitment to an excellent liberal education within an honorable community."
In February, Christman met with many seniors in a series of focus group interviews. As a result, she found the members of the Class of 2016 to be unified, friendly, caring, engaged, and involved. She also praised the new graduates for being adaptable to change.
"You've been at the College during a critical time in its history as it has stepped forward to become coeducational and to embrace students from many different backgrounds and circumstances," Christman said. "In doing so, this small college has made itself larger and you larger."
Christman advised the Class of 2016 graduates to carry the values Randolph instilled in them on to their future ventures.
"The work of the College is the work of the world, and that is to ensure that our diverse community is a respectful and inclusive one," Christman said. "With faculty and staff, you have shown commitment to ensuring that this community lives up to its values—that it walks the walk. Community building requires persistent vigilance and work. You will take your experience of community here at Randolph to your workplace, your neighborhood, and the causes you adopt. It will serve you and the world well."
Because of their experiences and the education they received at Randolph, Christman assured the graduates that they are ready to face any challenges life presents to them. "Turning points—even marvelous ones like this morning—can be daunting," she said. "The unknown of what is next can unleash doubts. Do not let those doubts have the last word. You are prepared."
Christman concluded by encouraging the Class of 2016 to go into the world and make a difference.
"At Randolph, you have received many gifts of attention from your professors, your mentors, your friends—all of the people here who have put you at the center," she said. "It's time to carry those gifts forward. The world is in desperate need of your attention, your passion, your decency, and your smarts.
"You make me hopeful about the future because you have learned not to hide your talents," she added. "You will step up. You will embrace big intentions. You are ready to live the life more abundant."
Tags:
Bradley W. Bateman, ceremony, Commencement, Jolley Christman, traditions