December 18, 2013
Randolph President Bradley Bateman addresses White House education initiative in op-ed for the New York Times.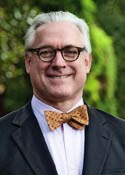 The New York Times published an editorial today by Randolph College President Bradley W. Bateman. The op-ed addressed Bateman's concerns regarding President Obama's new initiative to increase access to post-secondary education, which includes a system of rating colleges and universities.
Bateman, along with other college and university presidents from the National Association of Independent Colleges and Universities as well as the Annapolis Group, recently met in Washington, D.C. to discuss the issue with representatives from the White House. The presidents in attendance were unanimously in support of efforts to improve access to post-secondary education for those from low-income households but also were unanimously against the President's rating initiative.
Bateman believes the ratings system, which is anticipated to be rolled out in Spring 2014, may harm institutions that are doing the most good for the nation's poorest students. It discourages colleges from taking risky students who might not continue to graduation or might not earn significant salaries upon graduation.
Read the editorial here:
http://www.nytimes.com/2013/12/18/opinion/the-wrong-college-ratings.html.
Tags:
Bateman, editorial, New York Times, President Obama, presroll