October 3, 2012
Mom of three fulfills educational dream at Randolph
Cindy Ferguson '13 has lived two blocks from Randolph College for nearly 20 years. When her children were small, she used to bring her family to have dinner on campus. "It was a great way to find babysitters," she said.
She never thought a degree from Randolph would be in her future.
"I grew up in a really dysfunctional family, with parents that weren't involved in school. Education seemed like it wasn't really important to them," Ferguson said. Although she dreamed of being a middle school guidance counselor, she felt she had to put those hopes on hold. She worked in several jobs, taught herself computer skills, became a paralegal, and volunteered in a recovery mission at her church, all while raising her family.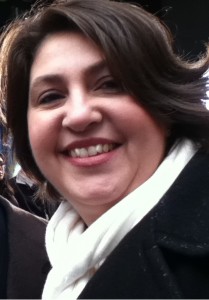 Cindy Ferguson '13 transferred to Randolph to
continue pursuing her dream of finishing college
A few years ago, Ferguson's oldest daughter came home from middle school with a poignant question: "Do you have any regrets?"
The resulting conversation led to Ferguson to enroll in college a few months later, with the support and encouragement of her husband Robert and their three children.
Today, Ferguson is preparing to graduate with a degree in psychology from Randolph. She plans to pursue a master's degree in counseling. She is determined to have the career she always wanted. She hopes she can help middle and high school students make wise decisions and attend college. "I want to encourage other students to think not just about where they are right now, but to think about what choices they can make right now that would help their future be better."
Before enrolling at Randolph, Ferguson attended Central Virginia Community College and received an associate's degree. When she learned about Randolph's highly ranked psychology department, she decided to continue her undergraduate education here.
Transferring to Randolph
Community college students in Virginia are guaranteed admission to Randolph College if they meet the requirements of an agreement between Randolph and the community college system. Visit our website to learn more about transferring to Randolph.
Randolph has been exactly what Fergusan hoped it would be. "I don't think I've had any class that I've disliked," she said. "I love that the class sizes are small so you get to have more conversations than lectures. The professors are just incredible."
Despite the fact that some of her classmates are only a few years older than Ferguson's children, she doesn't feel out of place. "I think I fit in here because it is so diverse," she said. "Everyone is learning from each other. I feel like everyone is my peer here."
Attending Randolph means taking part in traditions that seemed silly for an adult at first, such as decorating academic robes with buttons and wearing a funny hat and singing College songs. But Ferguson has come to enjoy those traditions and the way they bind her to other students and to the school's history. "Sometimes you just need to step out and see how much fun it really can be," she said. "That's not just about school, that's about life."
Tags:
Psychology, traditions, transfer students, transferring to randolph