August 31, 2010
Randall Speer wins Davidson Award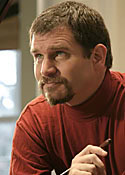 Randall Speer, associate professor of music, was named as the recipient of the Katherine Graves Davidson Award during Convocation ceremonies August 31, 2010 at Randolph College.
The award is given annually to a faculty member who has brought distinction to the College.
"This year's winner has had a significant impact on our community," said Dennis Stevens, dean of the college, in announcing the award. "Not only is he a respected teacher, but he has enriched our lives by his contributions to the cultural life of the college and the greater Lynchburg community."
In the past year, Speer has published two original choral works, organized and directed the collaborative production of Mozart's Requiem, and led a student Summer Research team in a project to catalog the College's music archives. Speer serves as director of the Randolph College Chorale and the Touch of Harmony vocal jazz ensemble. He has composed original works for Randolph College theatre productions and served as a judge for community music competitions.
Speer has taken the power of music to Westminster Canterbury, and he has brought the power of music to Randolph College students in his international study seminar in Austria, Italy, and Bulgaria.
"A colleague says that he is affable, quick to laugh, optimistic, cheerful, never complains, and works incredibly hard," said Stevens.
The Katherine Graves Davidson Award was established in 1975 to honor Trustee Emerita Katherine Graves Davidson, '35. The award has been made possible by gifts from Mr. and Mrs. J. Wilson Newman in recognition of the services rendered to private education by Mrs. Davidson and her husband, Frank G. Davidson. It is given annually to a faculty member who has brought distinction to the college. The recipient is chosen by a committee of local alumni, in consultation with the Dean of the College.
Tags:
award, Davidson Award, faculty, Music, music department, randall speer