August 31, 2010
Emily Chua wins Davidson Scholarship Award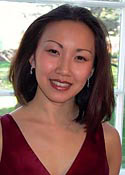 Emily Chua, associate professor of music, was named as the first recipient of the Katherine Graves Davidson Scholarship Award, during opening convocation ceremonies at Randolph College on August 31, 2010.
The award, named in honor of former Trustee Katherine Graves Davidson and made possible by gifts from Mr. and Mrs. J. Wilson Newman, is designed to call attention to the importance of faculty scholarship, including creative activity.
Chua has been described by her colleagues as "thoughtful, energetic, and an outstanding pianist who gives selflessly of herself." In addition to her many recitals both on and off campus, Chua has gained a reputation for her musical scholarship.
In collaboration with Nicholas Ross she released a CD entitled "A Piano Odyssey: Kent Holliday."
"If you haven't had the opportunity to listen to it, I recommend that you do," said Dennis Stevens, dean of the college, in announcing the award. "I was particularly touched by her interpretation of the Sonata for Piano, which includes Holliday's musical response to the events of September 11, 2001. I was deeply touched by it, and I am sure that it will also speak to you."