April 3, 2020
Counseling Center offering telehealth services for students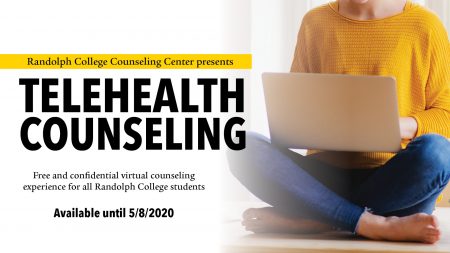 The Randolph College Counseling Center will be rolling out telehealth counseling to all students next week.
The new service is being offered through doxy.me, a telemedicine platform that allows for synchronous video and audio appointments with Counseling Center staff.
Students can sign up for telehealth counseling—which is free, confidential, and HIPPA compliant—at https://randolphcollege.titaniumhwc.com, or find more information on the Counseling Center's site, https://www.randolphcollege.edu/counseling. It will be offered until May 8.
Director Jennifer Bondurant said she intentionally waited for online classes to get up and running before launching it.
"I didn't think students were going to want to jump on their computers and do intensive counseling the week that all this started because everyone was in crisis mode," said Bondurant, who instead checked in by phone and email with students who were already seeking counseling services from the center.
"So, really, the very first day we were all back in the office, we all individually emailed our clients and said, 'Hey, we're here by phone, we're here by email. Check in and tell us what you want.' We were able to take time to really sit back and think about what we were going to do."
Bondurant said she felt services would be in higher demand a few weeks into online learning and social distancing.
"I think reality is hitting," she said. "The gravity of the situation is hitting. Whereas those first couple of weeks, students were still going out a lot. They thought they'd be back in school. Now I think it's really hitting them that this is life right now."
They're not alone. A new Kaiser Family Foundation poll, conducted from March 25 to 30, found that nearly half the people in the United States felt their mental health was being harmed by the coronavirus crisis, according to The Washington Post, demonstrating "how the COVID-19 pandemic has escalated into a nationwide psychological trauma."
Bondurant said it really hit her earlier this week, after the state's stay-at-home order, in effect until June 10, was announced.
"It's what life's going to be like for a while," she said. "There are great parts to it, but there are some parts where it's a big struggle for a lot of us."
The telehealth sessions will hopefully help relieve some of that.
"Clinically, I've never just stopped service and never seen my students again," Bondurant said. "That's not, in the clinical world, something you would do. But, obviously, we're in unprecedented territory. We're just trying to offer them whatever service meets their needs."
Tags:
coronavirus, counseling center, COVID-19, mental health