September 17, 2018
107th Annual Exhibition of Contemporary Art to open Sept. 20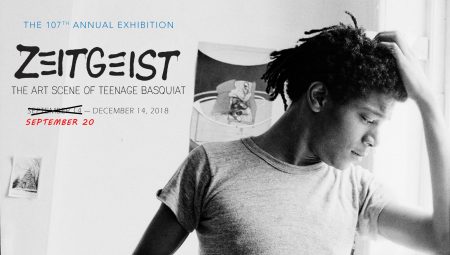 NOTICE: This is a rescheduled series of events. The Annual Exhibition of Contemporary Art and corresponding events were originally scheduled for the weekend of September 14-16.
On Thursday, September 20, at 5 p.m. the Maier Museum of Art at Randolph College will hold a free, public opening for its 107th Annual Exhibition of Contemporary Art, Zeitgeist: The Art Scene of Teenage Basquiat. 
A group exhibition, Zeitgeist focuses on the artists and scene around Jean-Michel Basquiat's teen-aged, pre-fame years. The exhibition complements the theatrical release of "BOOM FOR REAL The Late Teenage Years of Jean-Michel Basquiat," a Magnolia Pictures film directed by Sara Driver '77. The film premiered on May 11 at the International Film Center in New York, and the exhibition opened on May 13 in the Howl! Happening gallery in the East Village of Manhattan. Following the exhibition's close on July 29, it is travelling to the Maier, where an expanded version will be on view September 20-December 14.
Though his life and career as an artist was short, Jean-Michel Basquiat's raw, radical, neo-expressionist paintings made a lasting impact in the art world and beyond. Active from around 1978 until his untimely death in 1988, Basquiat became a 20th-century icon in his own time. The period covered in both the exhibition and film tells the story of Jean-Michel's early work, peers, and creative community in gritty, pre-AIDS, downtown New York—before the rise of the 80s art and real estate juggernaut. It was a time when decay, drugs, and dissolution fueled a boom in creativity where the definition of fame, success, and power was not based on money, Facebook likes, and self-promotion. For these creators, to be a penniless published poet or a musician gigging at CBGBs was the height of success. In the rawness of the work, the focus on street art and graffiti, and the experimentation and cross-pollination of styles and disciplines, the era has become a flash point for younger generations seeking to learn about and understand the authenticity, closeness, and community expressed in the work of the artists in Zeitgeist.
The exhibition illuminates Basquiat's work, and that of his friends and other artists, writers, filmmakers, and musicians who emerged from that scene, including Alexis Adler, Charlie Ahearn, Ted Barron, Philippe Bordaz, Robert Carrithers, Henry Chalfant, Brett De Palma, Vivienne Dick, Jane Dickson, Al Diaz, Barbara Ess, Coleen Fitzgibbon, Fab 5 Freddy, Futura, Robert Goldman aka Bobby G, Godlis, Nan Goldin, Bob Gruen, Richard Hambleton, Michael Holman, Becky Howland, Tessa Hughes-Freeland, Jim Jarmusch, Justen, Ladda, Ann Messner, Mary-Ann Monforton, James Nares, Glenn O'Brien, Franc Palaia, Lee Quiñones, Walter Robinson, Christy Rupp, Luc Sante, Kenny Scharf, Paul Tschinkel, and Robin Winters.
On October 20-21, the Maier will hold its 27th Annual Helen Clark Berlind Symposium in conjunction with Zeitgeist. The Symposium was established on the occasion of the College's 80th Annual Exhibition, by friends and family of Helen Clark Berlind '58 to honor her memory. The event has expanded the educational impact of the Annual Exhibition every year since, hosting scholars and artists to discuss issues relevant to each Exhibition.
This year, the Symposium kicks off Saturday, October 20, at 11 a.m. with an artist talk by Lee Quiñones, an innovator of New York's street-art movement and one of the most influential artists to emerge from the graffiti era. At 2 p.m., the Maier will hold a reading by New York writer and critic Luc Sante, an acquaintance of Jean-Michel Basquiat during the early 1980s. At 7 p.m., a screening of Boom! For Real: The Late Teenage Years of Jean-Michel Basquiat will be held at the Maier, with an introduction and post-screening discussion by the film's director, Sara Driver '77.  The Symposium will end on Sunday, October 21, at 2 p.m. with a panel discussion featuring Lee Quiñones, Mary-Ann Monforton and Luc Sante, moderated by Sara Driver. Visit maiermuseum.org/berlind for a more detailed schedule of symposium events.
The Maier will also feature numerous events throughout the fall in conjunction with the exhibition including family programs, workshops for high school students, tours, and a series of film screenings. Visit maiermuseum.org for more details about events and educational programs. During the academic year, the Maier is open Tuesday-Sunday from 1-5 p.m. (summer hours during May-August are Wednesday-Sunday, 1-5 p.m.). Admission to the Maier and its programs are free, unless otherwise noted.
The screening of Boom for Real is sponsored by The Sara Driver '77 Digital Filmmaking and Lecture Fund, established through the generosity of Albert W. and Martha Lou Driver '50. The 107th Annual Exhibition is supported by the generosity of Mary Gray Shockey '69. The 27th Annual Helen Clark Berlind Symposium is supported by the Helen Clark Berlind Symposium Fund, as well as Maier Members Julie Johnson McGowen '69, Barbara Niedland McCarthy '73, and Dana Davidson Redmond '60. Zeitgeist: The Art Scene of Teenage Basquiat was curated by Sara Driver '77, Carlo McCormick, Mary-Ann Monforton, and Howl! Happening, An Arturo Vega Project with Jane Friedman and Ted Riederer.
Tags:
107th annual exhibition of contemporary art, annual exhibition, art, Boom for Real, documentary, graffiti artist, Jean-Michel Basquiat, Maier Museum of Art at Randolph College, Sara Driver, Zeitgeist