June 2, 2018
'Code Girl' receives 2018 Alumnae Achievement Award
An alumna who was part of a top-secret operation to decode intercepted Japanese naval codes in World War II is the recipient of Randolph College's 2018 Alumnae Achievement Award.
During the 2018 Reunion, the College recognized Dorothy Braden Bruce '42 with the special award. She was part of the Army Signal Intelligence Service's cryptology program, and worked to decode intercepted messages about troop deployments and supply ships from the Japanese navy. The information supplied by Bruce and the other codebreakers helped the U.S. Navy pinpoint and sink almost every supply ship heading to the Philippines or the South Pacific.
Following the war, she and the other 10,000 women, known now as "Code Girls," signed a confidentiality agreement never to disclose the nature of their work. For 70 years, she kept her secret, even from her family. The mission was recently declassified, and she is now the featured character in Code Girls: The Untold Story of the American Women Code Breakers of World War II, written by New York Times bestselling author Liza Mundy.
At the special ceremony, John Long, director of education for the National D-Day Memorial, facilitated Bruce's sharing stories of courage, service, and accomplishments during her top secret mission.
The Alumnae Achievement Award recognizes an alumna who personifies the value of a liberal arts education and who has brought honor to herself and to the College through her outstanding accomplishments.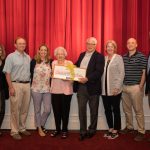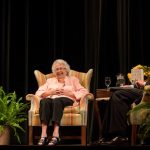 Tags:
alumnae, alumnae achievement awards, Code Girls, Dorothy Braden Bruce, reunion