Giving Tuesday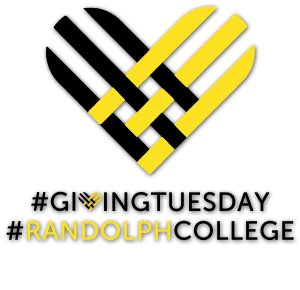 Thank you for making Randolph College's fifth annual Giving Tuesday campaign a success!
Click here to see our thank you video!
Giving Tuesday is a globally recognized day of giving back, and follows the holiday shopping days of Black Friday and Cyber Monday. On this day, individuals worldwide unite their efforts for the benefit of the charitable causes that matter most to them and for the betterment of their communities.
We received over 730 gifts and we are still tallying! Here are a few notable mentions from the day:
The most popular Annual Fund area for donor support was first generation college students, followed by scholarships and faculty support.
The class with the most donors was 1965, followed closely by 1977, 1973, 1967, and 1964–congratulations!
Current students from the classes of 2020, 2021, and 2022 made gifts.
Special recognition goes to the classes of 2004 and 2014 for having the most donors among our 2000's alumnae and alumni!
We give special thanks to all of our donors who provided over $100,000 in gift matches and challenges throughout our Giving Tuesday campaign:
Amy Jacobs '14
Hannah Cohen '15
Megan Arnold '06
Anonymous Randolph Staff
June Rutledge Heintz '66
Betsy Crighton '67
Johanne Pryor '61
Nina Earle Brock '61
Anonymous 1993 Alumna
Parents Council
Carol Haley '70
Kathy Seifert Graves '80
Cathy Pratt Morris '80
Anne Avera '80                                                                                                                                                        Anonymous Randolph Friend
Allison Muller '71
Dorothy Orgill Kirsch '55
Betty Lou Atkinson Newcomb '59
Agnes Fitts Marshall '64
Susan Neal Price '89
Dana Davidson Redmond '60
Anonymous 1965 Alumna
Margaret Shepherd Ray '65
Through your support, you help create opportunity for all Randolph students and we are grateful!