Giving Tuesday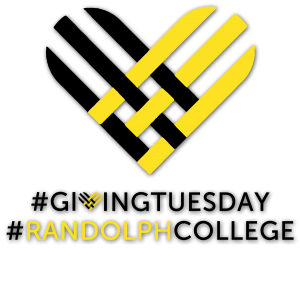 The campaign has ended and we have received gifts from 725 donors totaling $285,000!
Giving Tuesday is a globally recognized day of giving back, and follows the holiday shopping days of Black Friday and Cyber Monday. On this day, individuals worldwide unite their efforts for the benefit of the charitable causes that matter most to them and for the betterment of their communities.
We are deeply appreciative of everyone who provided 
a challenge or matching gift for Giving Tuesday! Thank you!
Barbara McCarthy '73, Becky Habel '73, Ann Morton Neale '65, and an anonymous alumna from the Class of 1956
Lorena Kern '72
Allison Gulick Muller '71, Margie Roberts Johnson '59, and an anonymous alumna of 1995
Randolph College Parents Council
Nina Earle Brock '61
Cara Smith Barnes '93
Betsy Crighton '67,Fran Taber '71, Farah Marks, Dana Redmond '60 and Jim Redmond, and an anonymous alumna of 1978
Alison Kenny Brennan '86, Maggi Keyes Beckstoffer '86, Holly Redmond Spiller '87, and an anonymous 1986 alumna
Lynn M. Hodge '68
Margaret Shields '83
Carla Bass Viana '81
Ayn Dietrich-Williams '04, Rachael Sullivan '04, Andee Bowden '04, Beth Ann McColman '04, Amorette Drexler '04, and Kathryn Manari '04
Eve Lincoln '07 and Tabitha Pitts '07
Amy Jacobs '14
Meredith Humphreys '12
An anonymous Randolph College staff member
An anonymous 1967 alumna and an anonymous 1991 alumna