Health Information
What is COVID-19?
COVID-19 is the abbreviation for "coronavirus disease 2019" and is caused by the virus named "SARS-CoV-2."  This disease causes respiratory symptoms which can sometimes be severe or fatal.
A COVID-19 outbreak was first detected in Wuhan City, Hubei Province, China, in December. The first case in the United States was confirmed on Jan. 21. On March 11, the World Health Organization officially called the disease a global pandemic.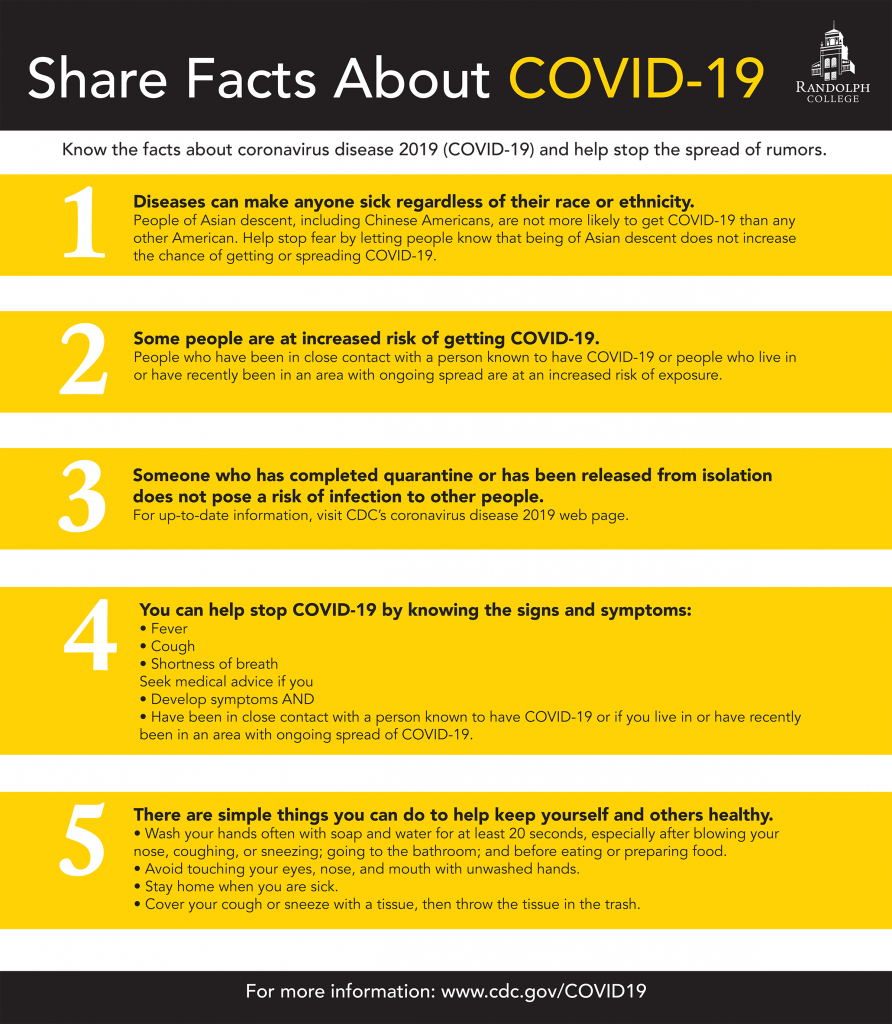 I am having symptoms, and I've traveled outside the United States or been around individuals who were infected. What should I do?
If you traveled outside the United States in the last 14 days and feel sick with fever, cough, or difficulty breathing, you should seek medical care immediately.
Before you go to the College's Health Center, a doctor's office, or emergency room, please call ahead and tell them about your recent travel and your symptoms.
Students who develop these symptoms and have traveled outside the country or have come into contact with an infected individual, should contact the Health Center (434-947-8130) if they develop the symptoms. Faculty and staff should seek treatment from their primary care providers.
Members of our community who present with symptoms will be treated according to CDC protocols. Up-to-date guidelines and recommendations are here.
Have there been any cases on campus or in our region?
No campus community members have presented with symptoms of the novel coronavirus, and there are no confirmed cases in our region.
What are the symptoms?
Symptoms include cough, fever, and shortness of breath.
What can I do to protect myself?
The best way to prevent infection is to avoid being exposed to the virus that causes COVID-19. There are simple, everyday preventative actions to help prevent the spread of respiratory viruses in general:
Avoid close contact with people who are sick.
Avoid touching your eyes, nose, and mouth with unwashed hands.
Wash your hands often with soap and water for at least 20 seconds. Use an alcohol-based hand sanitizer that contains at least 60% alcohol if soap and water are not available.
If you are sick, to keep from spreading respiratory illness to others, you should:
Stay home when you are sick.
Cover your cough or sneeze with a tissue, then throw the tissue in the trash. Then wash your hands!
Clean and disinfect frequently touched objects and surfaces.
Resources
Latest Travel Advisories