Spring 2020 FAQ
Why is Randolph transitioning to online classes?
Randolph College undergraduate students will move to online learning beginning March 23 for the remainder of the semester. All events and activities are cancelled during this time.
Health experts say social distancing (the practice of staying away from large gatherings and crowded areas) has proven to be one of the most effective means of slowing the spread of extremely contagious diseases like COVID-19. Randolph, like so many other institutions across the nation, is taking these measures in order to help mitigate the spread of the disease and to protect our community—both on campus and in the Lynchburg area.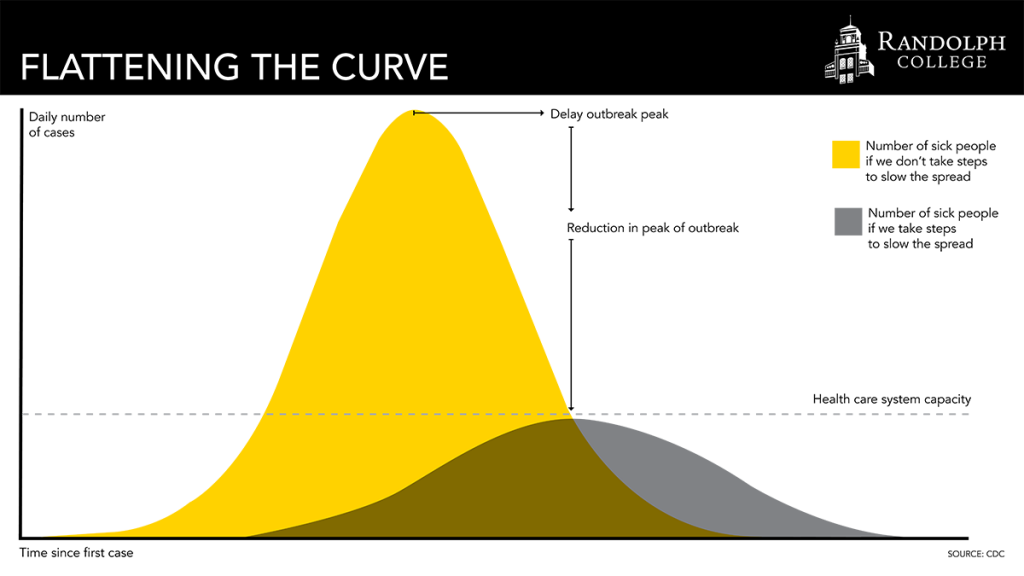 What does Randolph's decision mean to me?
Our intent is to provide a full range of services and support to students. The College will follow best health practices to keep all members of our community safe, including stressing preventative hygiene and recommending alternatives to in-person meetings and group gatherings.
Students
Randolph is strongly encouraging all students to return home. Students with extenuating circumstances who feel they cannot leave campus during this time should contact the Office of the Dean of Students to apply for a waiver. Examples of these situations include international students, students for whom home is not a safe place, students without access to the Internet, and students who are financially unable to afford the cost of additional travel. Any students who stay on campus will be required to follow strict social distancing protocols, including no gatherings, etc.
Faculty and Staff
Faculty and staff should contact their supervisor for information about plans for telecommuting and other options. Should you have extenuating circumstances, please contact the Office of Human Resources.
What should I do about my belongings?
Students will need to remove their belongings from the residence halls by April 5. An email from residence life was sent out on March 19 and provides additional details about scheduling a time to retrieve room contents and the check-out process. Please contact Assistant Director of Residence Life Kayce Croy if you have questions or extenuating circumstances.
How do I retrieve mail and packages currently in the mailroom?
The mailroom will be open from 10 a.m. until 4 p.m. between Friday, March 20 and Sunday, April 5 for students to collect mail and packages. An email with this information was sent to students on March 20. If you have additional questions, please contact the Reception and Information Desk at 434.947.8000.
Will I get a refund of room and board?
Academic courses will continue, albeit online. Randolph's faculty members are working extremely hard to adapt our in-person classes to the online experience. Students remaining at home for the remainder of the semester will receive a refund for meals and housing during this time period. Because student financial aid packages vary, this reimbursement will not be the same for every student. Information regarding these refunds will be provided by the end of next week.
Will food services be available for students staying on campus?
The Skeller will be open during this time period with designated hours. Students will be able to use meal exchange during this time.
I'm unsure about online classes and need help. Who do I contact?
If you need technical help, please contact the Help Desk. If you need academic assistance, the Academic Services Center will be operating and available for student assistance. Faculty members will also be available for students.
What will the academic calendar be for the rest of the semester?
The College will follow the spring 2020 academic calendar unmodified. That is, the last day of classes will be Friday, May 1.  Final exams will be May 4-8.  Grades will be due for seniors on May 11 by 10 a.m. All other grades will be due May 18 by 10 a.m.   There will not be make-up days associated with the extended spring break
What activities and events will be cancelled?
All activities and events on campus, including athletics, are cancelled for the remainder of the semester. The Maier Museum of Art at Randolph College and the Randolph College Nursery School are included in the closure.
Can I use the campus fitness facilities?
The RAD Center, including the weight room, and the Student Center fitness center will be closed during this period.
Will Commencement be held on campus?
Commencement will be postponed. More details will be communicated at a later date.
What if I feel sick?
If you are having respiratory symptoms, or have been in contact with someone who has COVID-19, do not return to campus until you are cleared by a physician or your local health department. If you feel sick while on campus, please call the Health Center to report your symptoms so that you can be connected with the appropriate provider.