Leadership Council and Summit Event Highlights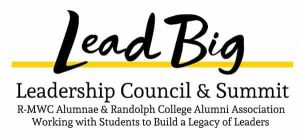 Featured Speakers and Sessions
Download Full Schedule (PDF)
Focus on the Good
Alison Buckley '91, VP for Enrollment Management, Connecticut State Colleges and Universities
Using CliftonStrengths, an online assessment test that outlines personal strengths, Alison will share how to best use the information for the betterment of the organizations in which you are involved.  You will learn to understand yourself, your colleagues, committee, and family members better, and learn how to highlight yours and others natural strengths, reduce tension and miscommunications, and improve morale and overall performance.
Free CliftonStrengths Assessment
You are unique. You are powerful. Take the assessment that has empowered many to succeed personally and professionally. Learn your strengths and learn to use them to thrive.
Lead Big
Christine Kennedy, CCE, IOM, CPC, ELI-MP, Lynchburg Regional Business Alliance
Christine is a leadership and life purpose coach and the COO and Executive Vice President of the Lynchburg Regional Business Alliance. She brings a straightforward yet supportive approach to her clients and specializes in working with individuals who need direction, clarity or feel like they're in a "holding pattern" in some area of their life.
College Update
Bradley W. Bateman, Ph.D., President of Randolph College
Hear firsthand about the ideas and initiatives that will shape the College's future.
Association Volunteer Workshops
Chapter Contacts Workshop
Chapter contacts are the "boots on the ground" in your hometown. Learn how you can help the College spread the word on all the positive happenings behind the Red Brick Wall. Faculty, staff, and current students are available to share with you information on special College programs, academic initiatives, and the scoop on current student life including continuation of traditions.  This workshop will also include "how to's" to spread the message through social media avenues including RandolphConnect, Facebook, and Instagram.
Class Reunion Committees Workshop
If you are a member of a class ending in "5" or "0" you are in Reunion next May! Reunion 2020 will be held Thursday, May 28-Sunday, May 31.  Join your Class Reunion Committee and be an important part of setting the programming schedule, reconnect with classmates and encourage their attendance, and work with the College staff to set goals for your class gift. The workshop will give you an overview of the committees' responsibilities and help you get started with a class list and samples of communications.
Class Secretaries Workshop
The class secretary serves as a liaison between her/his classmates and the College.  This workshop will discuss communications with classmates and compilation of news received from classmates for publication in the Bulletin section of the Vita Abundantior magazine.
Class Agents Workshop
The class agent also serves as a liaison between her/his classmates and the College. This person is tasked with primarily encouraging classmates to participate in the Annual Fund.  The workshop will share ideas for communications and help set goals for the upcoming year.
Leadership Development Workshops
Wellness and Leadership: Self Care before Service
Jennifer Bondurant, Director of the Counseling Center, Randolph College
Kayce Croy, Assistant Director of Residence Life, Randolph College
"Nurturing yourself is not selfish – it's essential to your survival and your well-being." – Renee Peterson Trudeau
Leadership often requires long hours and great effort, but rest and relaxation are just as essential. Enterprising people often feel that every minute of every day must be filled with work, but that is not a healthy way to live nor is it sustainable.  Leaders must take time for themselves, and they should not apologize or feel guilty for doing so.
Leadership in a Diverse World: The gift of diversity
Brent Lewis, Ph.D., Director of Identity, Culture, and Inclusion, Randolph College
"You have a responsibility to make inclusion a daily thought, so we can get rid of the word 'inclusion'."  – Theodore Melfi
Effective leaders create environments where diversity can be a benefit rather than a cause for division.  Being able to encourage collaboration and cooperation across cultural differences is becoming a prerequisite for leading in today's global society.  We need to listen more closely, as more questions, choose not be offended by a behavior or comment because it is unfamiliar, and pay better attention to our own assumptions about norms and practices that might be different in other cultures.  Leading in a diverse world will require that we enter conversations with humility, patience, and open minds.
Be the CEO of Your Own Life: The Power of the Pivot
Laura Pennington Briggs '08, Writer, Speaker, Author
"The pen that writes your life story must be held in your own hand." – Irene C. Kassorla
Your career path, and your life path, are completely up to you.  Let's take all that you have learned about yourself up to this point–your strengths, your interests, your values, your growth opportunities–and create a plan for yourself moving forward. In this session, we'll cover questions like: When is it time to make a change? How do you set yourself up for success with that change? What skills and likes/dislike can help point you in the right direction? How does your past experience translate to your new endeavors? Where can you find resources to help you pivot in your life, business, or career?
Effective Leadership Communication
Elizabeth Perry-Sizemore '97, Catherine Ehrman Thoresen '23 and William E. Thoresen Chair of Economics, Randolph College
Tina Kirk '93, Director of Education Abroad at the University of Central Oklahoma
"To effectively communicate, we must realize that we are all different in the way we perceive the world and use this understanding as a guide to our communication with others." – Tony Robbins
As your responsibilities grow, your communication skills can help you succeed—or hold you back. In any role or function, you must be able to convey your ideas in ways that drive effective decision making, teamwork, and action.  Join Dr. Perry-Sizemore and Tina Kirk as they walk you through how to effectively receive and give feedback, create common goals, keep teams informed and use information to build team morale.
Reception with Alumnae, Alumni, and Current Students
Use this opportunity to network and reconnect following the Summit.  Share ideas and make plans to connect in the future using RandolphConnect!
Leadership Council & Summit Closing Casual Dinner
(Additional Fee and Registration Required for Alumnae, Alumni, and Students)
Enjoy a casual dinner with Randolph College student leaders and alumnae and alumni.  Learn more about today's student, their curricular and extracurricular experiences, and the College's alumnae and alumni. Create bonds between alumnae/alumni and students that can be shared over the years.