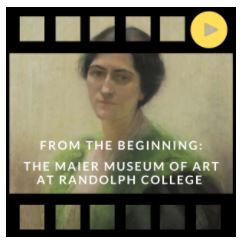 Join fellow alumnae and alumni for a showing of the Maier Museum of Art Documentary – From the Beginning: The Maier Museum of Art at Randolph College (Directed by Tom Sykes, 2021).
Thursday, November 18, 2021
6:30-8:00 p.m. Eastern
via Zoom
The documentary tells the remarkable story of how a small women's college in Virginia – Randolph-Macon Woman's College – built an innovative and distinguished collection of American art. Always small, but ambitious, and ahead of its time, the College nurtured a community of faculty and students committed to the arts and encouraged their scholarly, risk-taking pursuits. As a result, the Collection features excellent works illustrating the evolution of American art from the early 19th century to today. Through interviews, archival photographs, and current footage, filmmaker Tom Sykes reveals how the arts remain at the center of Randolph College's liberal arts education.
Following the showing, the Director of the Maier Museum of Art at Randolph College Martha Johnson will be available to answer any questions.
Register below for connection information: