September 15, 2015
J. Nikol Beckham brings unique experiences and skills to Randolph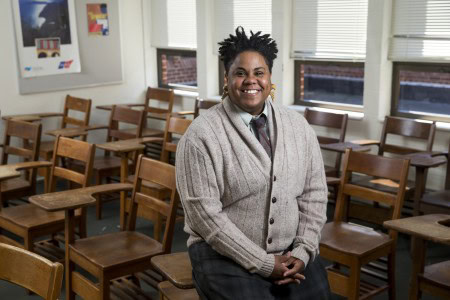 As one of its newest faculty members, communication studies professor J. Nikol Beckham brings teaching and professional experience as well as other unique skills to Randolph College.
Beckham earned her bachelor's degree in English from Virginia Tech and went on to earn a bachelor of fine arts degree in visual communication from American Intercontinental University. She received her master's degree in communication studies from San Diego State University and her Ph.D. in communication studies from the University of North Carolina at Chapel Hill.
Her teaching career began when she served as a graduate teaching associate at San Diego State. Also while living in California, Beckham was an adjunct instructor at Grassmont Community College and San Diego Miramar College, and lectured at San Diego State University and Platt College.
Upon returning to the East Coast for her doctorate studies, Beckham was awarded the William N. Williams Royster Fellowship and served as a graduate teaching fellow for the University of North Carolina's Department of Communication Studies. She taught for the last three years at Piedmont Virginia Community College in Charlottesville.
In addition to her extensive higher education teaching experience, Beckham also has used her marketing and public relations skills in several private sector jobs and for non-profit groups. Now, she will share her knowledge and stories with Randolph students.
"It's been a twisting road, but I'm glad to be here," she said. "One of the things that's exciting about my addition to the department is that I bring some more applied teaching. We already have some folks who have done really great work in multimedia journalism, transmedia story-telling, and digital photography, and I've done some things in the professional sector that I think will continue to make that aspect of the department strong."
Outside of her academic interests, Beckham practices "forgotten skills" like gardening, knitting, brewing beer, and crafting.
"I describe them as skills that would help you survive the zombie apocalypse," she laughed. "If I can take it apart or build it from scratch, that's the kind of thing I really geek out on."
Though only two weeks into the fall semester at Randolph, Beckham has embraced the College's "Be an Original" motto and has enjoyed learning about her students' own unique interests.
"From my first visits to Randolph I've been impressed by the degree to which students here seem to know what they want," she said. "Even if they don't know what job they want, they know what kind of educational experiences they'd like to have while they're students here."
Tags:
communication studies, faculty, J. Nikol Beckham, new faculty