February 18, 2015
Randolph hosts Broadway performer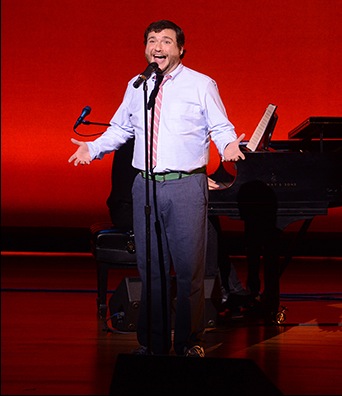 Randolph College will host Broadway performer and 30 Rock actor Todd Buonopane for a cabaret performance and workshops this weekend.
Buonopane will present "Lying in the Driveway and Other Stories," an evening of music and tales of his work on Broadway and other venues around the country, at 7:30 p.m. Sunday in Thoresen Theatre. The performance is free and open to the public.
Buonopane is visiting Randolph by invitation of his friend Wesley Fugate, the College's vice president and chief of staff. "Todd is such an accomplished artist, and I wanted our students to be able to interact with him and pick his brain about what life as an actor is like," Fugate said. "I hope that they might learn some tricks of the trade as well."
On Friday, Buonopane will have lunch with and hold a theatre workshop for Randolph students. Later, he will give a workshop for students at Lynchburg's E.C. Glass High School, on the same day that they open a production of Rodgers and Hammerstein's Cinderella—a show in which Buonopane recently played a principal role on Broadway.
Buonopane is well known for his role as Jeffrey Weinerslav on NBC's 30 Rock, but he also has performed in Broadway productions including The 25th Annual Putnam County Spelling Bee, and Chicago.
The Burg, an entertainment publication by the Lynchburg News & Advance, recently published an interview with Buonopane previewing "Lying in the Driveway and Other Stories." Read the story here.
Tags:
Theatre