Meet the Education Faculty
Consuella Woods
Chair of the Education Department, Assistant Professor of Education
B.S., Bluefield State College, M.A., Lynchburg College
email
Education wasn't always the profession of choice for Consuella Woods. When she first entered college, she wasn't sure if teaching would be right for her. But after a few years, she learned that teaching was in her blood.
She was always helping people and always wanted everyone to meet their maximum potential: both characteristics of a successful teacher.
Today, Woods is retired, meaning she has started yet another career path -- that of a college professor. After about 34 years as a teacher and principal for local public school divisions, Woods left the world of public education to become an education professor at Randolph College.
A graduate of Bluefield State College, Woods received her master's degree from Lynchburg College and also completed work at the University of Virginia. She has worked for Prince William County Schools, Bedford County Schools and Lynchburg City Schools.
For Woods, teaching others to teach has its own rewards.
"The textbooks will tell you all of the information," she says. "But I've lived it. I have the opportunity now to help others learn to do what I did for so many years. I have the opportunity to help students become effective teachers and effective administrators."
The bottom line, she adds, is to help all students, whether they are college-aged or younger, to succeed.
Woods was the first minority female of the Virginia Association of Secondary School Principals and was an officer of Phi Delta Kappa. She has served on numerous school and community organizations including Camp Child, The Lynchburg Family Physicians Board of Directors and the Lynchburg College Advisory Board.
She has been a speaker at several professional conferences including the VASSP Summer Administrators Conference and the Women's Resource Center at the University of Virginia.
Woods spends her free time reading, cooking and singing. She is active in her church and loves to spend time working with youth.
Tish Colvin
Adjunct Assistant Professor of Education
B.S., University of Colorado, Boulder; M.A. The George Washington University; Ph.D. The University of Memphis
email
I am an adjunct faculty member in Randolph College's Education Department. With a Ph.D. in Educational Psychology I am especially interested in academic motivation. Specifically, I have examined the relationship between perfectionism and achievement goal orientation. In my dissertation I focused on the role of self-efficacy, academic help-seeking attitudes, and achievement goal orientation in dissertation progress.
I previously worked in the Office of Community Programs at Virginia Commonwealth University (VCU) helping support faculty and students engaged in community-service programs and service-learning courses. While at VCU, I also had the opportunity to serve as Campus Director of the American Humanics program preparing undergraduate students for work as nonprofit professionals.
In high school and college I participated in study abroad programs in Cuenca, Ecuador and Seville, Spain respectively. After college, I completed a 3-month National Outdoor Leadership (NOLS) Course in Kenya. The adventure included summiting Mt. Kenya, sailing in ancient dhows, and hiking with the Maasai.
Since moving to Lynchburg in 2011 I have been lucky enough to run the Virginia 10-miler, the Holiday Lake 50K trail run and complete the Augusta (Georgia) Ironman 70.3. I hope to finish a full Ironman triathlon in September 2014. I also volunteer at the Lynchburg Public Library as leader of the Speaking of Books Club.
Cheryl Lindeman
Assistant Professor of Education
B.A. Wittenberg University; M.S. University of Akron; Ed.D., University of Virginia
email
Roberta Parker
Adjunct Instructor in Education
B.A., M.A., California State University; Ed.S., University of Virginia
email
I have been an educator for 24 years. My teaching experience runs the gamut; from kindergarten to high school, students with special needs to students with extraordinary abilities, and from reading to science. I have had the pleasure of teaching in both California and Virginia.
My education began at California State University at Sacramento where I earned a Bachelor's degree in Liberal Studies and a Master's degree in Special Education. In Virginia, I earned an Education Specialist degree in Reading from the University of Virginia. I am currently continuing my studies at UVA, working on a Doctorate of Education in Curriculum, Teaching and Learning with an emphasis in Reading.
I am passionate in my belief that every student can learn to read. I also believe that, regardless of the discipline, every teacher can learn to incorporate strategies that enhance every child's reading and writing. It is my goal that every Randolph teacher candidate enters the field of education as an agent of change.
In my spare time, I enjoy spending time with my family, hiking, and swimming. Aside from my family, my passions are reading and traveling.
Peggy Schimmoeller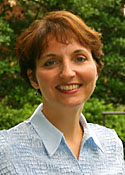 Professor of Education
B.S., University of Dayton; M.A.T., Oakland University; Ed.D., University of Virginia
email
website
I am a teacher educator and educational researcher interested in a wide range of topics related to the learning process. All children are learners and I adhere to this premise in all of the work. I received my B.S. from the University of Dayton, my master's degree from Oakland University, and my Doctorate of Education from the University of Virginia. My areas of emphasis include special education, educational law, math and science education and teaching and learning through the college level. I joined the Randolph College community in 1993.
As an educator I have taught in Ohio, New York, Michigan and Virginia. I was drawn to students who were intelligent but performed behind their peer group in school. As a result of these experienced I pursued a master's degree focusing on reading and learning abilities and disabilities. My doctoral studies included work in curriculum and instruction, leadership and policy studies and child development/psychology. I have worked with pre-K through high school aged students who were diagnose with mild or moderate reading and learning disabilities in a wide range of setting at both private and public schools.
My research work includes work in Bangkok, Thailand and Lahore, Pakistan where I have traveled and worked with teachers in public schools and colleges. I research how teaching and instructional practices influence student learning and classroom climate. My work includes reading, science, mathematics and college teaching practices.
During my tenure at Randolph I have worked to promote higher education and the importance of the liberal arts and its practical application to various professional career opportunities. I enjoy working with colleagues on leadership, change and transition, and strategies that help move the college forward.
I am actively involved in a variety of professional organizations including the American Association for Teaching and Curriculum, the American Education Research Association, Virginia Association for Science and Technology, and the American Association for University Women. In addition I work closely with the Jubilee Family Development Center, New Vistas Schools, and Camp Kum-Ba- Yah Environmental Center to promote learning outside of the traditional school day.