October 22, 2018
Tree Planting – Washington D.C.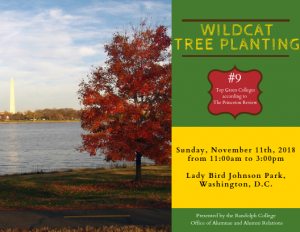 Join the Randolph College
Office of Alumni Relations and
Admissions Office for a day of service.
We take pride in being one of the top green colleges in the nation.
To continue our efforts to sustain our environment, we will be planting willow trees at
Lady Bird Johnson Park.
We will meet at the Columbia Island Marina Parking lot.
Directions and details can be found below.
All supplies will be provided by a National Park Arborist.
We will serve a light lunch from 11:00 a.m. – 12:00 p.m.
Following lunch, we will walk as a group to the park to begin planting.
We hope you can join us!
Please RSVP by November 5, 2018,
at http://wildcatplant.rsvpify.com
Please email Sam Hazlewood '16 at shazlewood01@randolphcollege.edu with any questions!
Directions
Lyndon Baines Johnson Memorial Grove
George Washington Memorial Pkwy,
Washington, DC 20037
Getting to Lyndon Baines Johnson Memorial Grove (aka LBJ Grove):
LBJ Grove is only accessible from the southbound lane of the George Washington Memorial Parkway. There are signs that make the exit.
Parking at LBJ (indicated by the blue lines on the map below):
Once you pull into the exit, drive to the terminus of the road to find ample parking on your left and right. No permit or payment is needed for this parking.
Volunteer Meeting Point (indicated by the orange start on the map below):
The National Park Service will have a check-in table set up near the restrooms. All volunteers should gather here prior to the event, and we will walk to the work site together once everyone has arrived.
Walking to the Work Site (indicated by yellow dotted line below):
Volunteers will be required to walk roughly 1/5 miles to the project work site. We will walk as a group. From the work site we will split into smaller groups and assign tasks.