April 17, 2018
Lynchburg, VA – Code Girl Conversation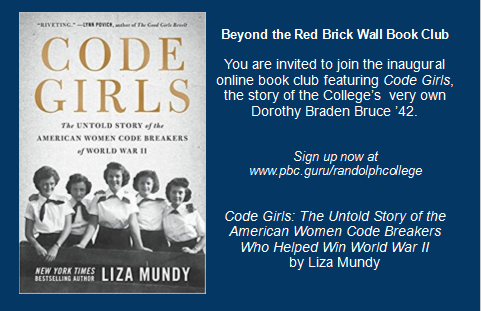 The Randolph-Macon Woman's College Alumnae and Randolph College Alumni Association
Invites You to Connect to this Virtual Community.
The Beyond the Red Brick Wall Book Club
will meet through a private forum where all participants
can discuss the current book and network with each other.
Continue the conversation in person with
Dorothy Braden Bruce '42 at Reunion 2018
Saturday, June 2, 2018, 11:15 a.m.—12:15 p.m.
Randolph College, Smith Memorial Building
2nd Floor, Smith Hall Theatre
Our very own Code Girl will share her stories of courage, service,
and accomplishments breaking Japanese code during World War II.
Please register online https://engage.randolphcollege.edu/chapterevents

Your response is requested by Friday, May 25, 2018.
Please note: 
Parking and shuttle service will be available from the Maier Museum of Randolph College parking lot to Smith Memorial Hall.  The Maier Museum will be open following the presentation for your convenience.  Please make plans to stop in and view the outstanding collection of American art.
Due to limited seating, the luncheon following the event is for registered Reunion 2018 participants only.
For more information, please contact the Office of Alumnae and Alumni at 434.947.8102 or alumnaeoffice@randolphcollege.edu.