April 17, 2018
Chicago, IL – Code Girls Discussion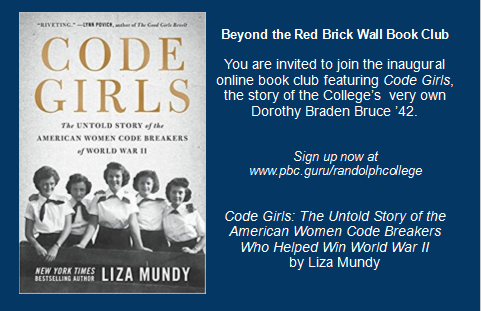 The Randolph-Macon Woman's College Alumnae and Randolph College Alumni Association
Invites You to Connect to this Virtual Community.
The Beyond the Red Brick Wall Book Club will meet through a private
forum where all participants can discuss the current book and network with each other.
Continue the conversation in person with members of the
Chicago Chapter of the Alumnae and Alumni Association 
Code Girls Discussion
Monday, June 18, 2018, 5:30-7:30 p.m.
Home of Sue-Gray Goller '73
401 E. Ontario Street, Apt. 4505, Chicago, Illinois 60611
Refreshments will be served

Please register for the June Get-Together online
https://engage.randolphcollege.edu/chapterevents
Your response is requested by Wednesday, June 13, 2018.
For more information, please contact the Office of Alumnae and Alumni at
434.947.8102 oralumnaeoffice@randolphcollege.edu.