June 19, 2018
Washington, D.C. – 2nd Annual D.C. United Event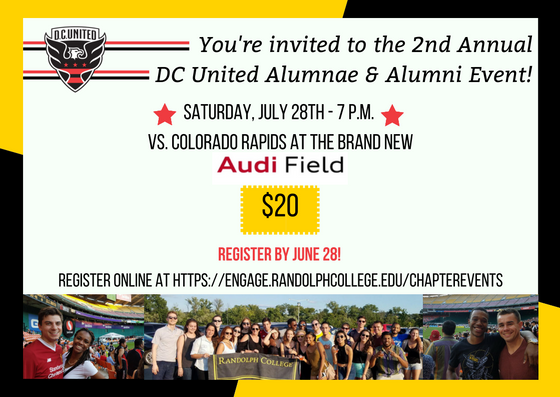 Join your fellow WildCats for the 2nd Annual D.C. United Alumnae & Alumni Event!
This is the first season United will play at the brand new Audi Field and tickets are in high demand so act fast.
Last year we had over 40 alums and friends come out so we hope for the same turnout this year!
Click here to register!
REGISTRATION IS OPEN UNTIL JUNE 28
Audi Field is located at
1711 First St SW, Washington, DC 20024
For more information about D.C. United and the brand new stadium, visit their website!
https://www.dcunited.com/
If you have any questions please contact
Sam Hazlewood '16 by email at shazlewood01@randolphcollege.edu
or by phone at 434.947.8102.
*More information will be provided after registration and final counts are complete.