Meet the Faculty
Andrea Campbell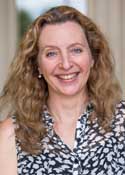 Chair of the Art Department, Associate Professor of Art
B.A., The American University; M.A., PhD., Rutgers State University of New Jersey
email
My courses in Medieval, Renaissance, and Baroque art and architecture challenge students to understand the cultures which created the works we study. By reading primary texts and intellectual histories, we not only attempt to learn the mindset of patrons and artists, but we also bring life to the painting, sculpture, and architecture under scrutiny.
Among my favorite courses are those I have co-taught with other faculty. Professor Kathy Muehlemann (Studio Art) and I explore the techniques and history of the painting and mosaic media in Art 204. Students learn how to do the methods in the studio and in lecture learn the use and meaning of these techniques in Ancient, Medieval, and Renaissance Italy. Perhaps the best part of this course is the subsequent study tour to Italy. There can be no greater joy for a teacher and art historian than witnessing students' first encounters with original works of art. I have also co-taught with Mara Amster in the English Department. We hope to teach again our course on Renaissance Women in Art and Literature. It was the perfect topic for this interdisciplinary approach.
I am devoted to taking students to see original works of art and architecture. In addition to the biennial study tour to Italy, I am keen to develop other study tours, such as the Art & Theatre seminar in London and Edinburgh that I co-led in 2006. All of my students have the opportunity to see world-class collections on our annual field trip to Washington, DC.
My research interests lie in fifteenth-century Siena, a time and place in which art was integral to one's public and personal life. My most recent publication is a chapter on "Iconography and Identity in a Renaissance Republic" in Art as Politics in Renaissance Siena (Ashgate, 2009).
Chris Cohen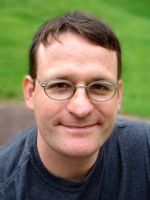 Adjunct Instructor in Art
B.A., Yale University
email
Teaching at Randolph has kept me close to the energy and curiosity that all beginning art students are brimming with and is a constant reminder of the vitality and necessity of studio practice in our modern lives. My experience at Randolph has shaped my artwork, and my reasons for doing it.
David Duncan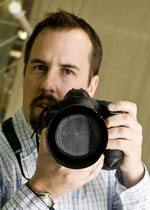 Adjunct Instructor in Art
B.F.A., Savannah College of Art & Design
email
My whole life has been revolved around telling stories. I worked as a staff photojournalist with several newspapers over the course of 12 years, eight of which was with The News & Advance in Lynchburg, VA before leaving at the end of 2005 to run my own corporate photography and video production studio, David Duncan Photography and Live Dream Share with my wife, Michelle. www.davidduncan.com www.livedreamshare.com
My clients range from editorial to corporate clients, The Washington Post, WebMD Magazine, Wired Magazine, BBC Radio 4, Smart Money Magazine, Randolph College, Norfolk Southern, Piedmont Eye Center, Cardiovascular Associates of Central Virginia, Collier Resources Company and St. John's Episcopal Church to name a few. The other side of David Duncan Photography, we cater to personal clients, photographing families and weddings and recording personal historical audio stories or sound portraits. Family and wedding www.davidduncanphoto.com
In 2005 I was accepted to attend the Poynter Institute of Journalist where I attended the Visual Edge, Visual Reporting workshop and produced a short video story on the U.S. Coast Guard Rescue Swimmers that were in New Orleans during Hurricane Katrina. I have a personal collection in the Library of Congress American Folk Life Center that was name 'David Duncan September 11th Collection'. The project was first part of a personal multimedia project and gallery show that I shot and produced after the 9/11 attacks called Innocence Lost Lynchburg 9/11. The focus was to show how Lynchburg, VA dealt with the attacks the days and months afterwards. Some of my 9/11 images were also featured in the LIFE Book and Magazine "The American Spirit" Meeting the Challenge of September 11.
Giving back to my local community is a huge priority of mine. My dad instilled a commitment to volunteer as we grew up. In my professional life, I have partnered with the YWCA of Central Virginia www.ywca.org/centralvirginia for the past four years producing all of their photography, video content and projects pro-bono year-round creating a presence and brand online and in the community.
My goal when teaching students is to show them how to work and create content in the different mediums, work as a team and to tell stories with what they capture. I bring real world experience to my classroom and teach the way I would want to be taught, fast pace and "hands-on" the course work. I have set up group of artist, photographers and videographers who are happy to share their life experiences through my Skype Artist Series. My end goal for my class is to find a local non-profit in our community that has limited funds in their budget, one that could not afford video services, and have the students work in a real world environment with a client to produce two-five minute stories that are based around the mission of the non-profit. The finished videos are shown during a screening on campus and the videos are uploaded to www.vimeo.com/comm279 where the non-profit can link to the finished stories for free on their website, blog or Facebook page.

James Muehlemann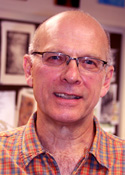 Professor of Art
B.F.A., University of Illinois, M.F.A., Syracuse University
email
website
Prior to teaching at Randolph College, I lived in New York City and participated in a very vibrant art world. It is this experience that is probably the greatest asset that I bring to the classroom.
I have traveled in many parts of the world and even lived in Italy for a couple of years. This enabled me to experience firsthand many of the art treasures that different cultures have produced. The diversity within these treasures informed my belief that there are vast possibilities and approaches to making art. I see no conflict in my belief in modern art and my teaching from observation. I teach life drawing as well as realistic and abstract painting, always looking towards each student's particular sensibility.
Because students start at different levels and develop at their own speeds, teaching to the individual seems most beneficial. The small class size at Randolph makes this possible. At the same time, I feel we are part of a shared culture that is fortunate to be educated. That education includes art history, pop culture, and the means to express oneself in whatever medium, one is working.
Although there is an informal atmosphere in my studio classes, there is also a structured philosophy in operation. I enjoy very much working with students, and the students seem to enjoy the hard work that produces their accomplishments.
Kathy Muehlemann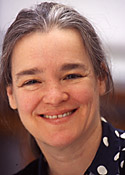 Professor of Art
B.F.A., State University of New York, Empire State College
email
website
"I became an artist in New York City. I lived and worked in a loft in lower Manhattan. I couldn't wait to finish school before diving into the art world. While I was still in undergraduate school I had my first gallery show on 57th street at the Jock Truman Gallery.
"I steeped myself in the galleries and museums and artist's studios that I visited. Making art, showing it, looking at the work of other artists and having endless conversations about art, all contributed to my growth as an artist.
"That is why I say that I am an artist that teaches, not a teacher who makes art. The distinction is important in that it points to my background as a professional artist and what this background brings to my teaching. I want my students to step into art as deeply as they want to. I will be there to support and encourage them and hopefully to help them stand in awe as I have stood so often."
Kathy Muehlemann earned a B.F.A. from State University of New York. She has also studied fresco painting in Italy.
Her work has been represented and shown in one-person exhibitions both in New York galleries, including the Pamela Auchincloss Gallery and the Virginia Zabriskie Gallery, as well as in museums such as the Contemporary Museum (Honolulu), the Cedar Rapids Museum of Art, the Hyde Collection, the Lannan Museum, the Maier Museum of Art, and the Nelson-Atkins Museum of Art. Her work has been included in more than one hundred group exhibitions in the United States and abroad. Her work is in the collections of American museums including the Ackland Art Museum, the Albright-Knox Art Gallery, the Cleveland Museum of Art, the Contemporary Museum (Honolulu, Hawaii), the Grey Art Gallery (New York University), the Museum of Contemporary Art (Miami), and the Nelson-Atkins Museum of Art.
Kathy has received fellowships from the National Endowment for the Arts and the John Simon Guggenheim Foundation ,and she was awarded a Rome Prize from the American Academy in Rome in 1988.
Leanne Zalewski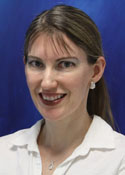 Assistant Professor of Art
B.A., Columbia University; Ph.D., City University of New York
email
I am delighted to be teaching art history at Randolph! I hope that my enthusiasm for art is contagious! The students here are outstanding, and the small classes foster an informal environment where dynamic discussions can take place. I am genuinely interested in hearing what students have to say and so encourage them to ask questions and offer their insights. Having a stellar collection of American art at the Maier Museum is also a great advantage for the students. My curatorial seminar students co-curated Mirror of a Passing World: Ephemeral Places, Vanishing Spaces from inception to opening reception at the Maier. Lynchburg itself is also rich in nineteenth- and early twentieth-century architecture, which provides opportunities for on-site learning for my American art courses.
Prior to coming to Randolph, I taught at City College, the City University of New York; the Pratt Institute, Brooklyn; and the Massachusetts College of Art, Boston. In addition, I have experience working at museums, a mid-size auction house, and a major art gallery in New York City. These multiple perspectives on the art world inspire my teaching, and I have taken several groups of students to see modern and contemporary art in New York City. Visits to the Museum of Modern Art, the New Museum of Contemporary Art, Shepherd & Derom Galleries, and Christie's auction house were among our stops.
Nineteenth-century European and American art are my research areas. I am currently writing a book that focuses on early Gilded Age collections of European academic art and recently published an article, "Art for the Public: William Henry Vanderbilt's Cultural Legacy," in Nineteenth Century Art Worldwide. In addition, I have contributed entries to the exhibition catalog, Alexandre Cabanel, la tradition du beau, for a retrospective held at the Musée Fabre in Montpellier, France. I held a short-term senior fellowship at the Center for the History of Collecting in America at The Frick Art Reference Library & The Frick Collection, New York, and received grants from the Getty Research Institute and from Randolph. I have presented papers at the College Art Association (CAA); Southeastern College Art Conference (SECAC); Salve Regina University Conference on Cultural and Historic Preservation; Universities Art Association of Canada; Mid-Atlantic Popular and American Culture Association (MAPACA); Gender, Bodies, & Technology Conference; and at the Cleveland Museum of Art and at the Dahesh Museum of Art in New York. In the fall of 2012 I will be presenting papers at SECAC and at the Feminist Art History Conference in Washington, D.C.